Chalmette National Cemetery's Frequently Asked Questions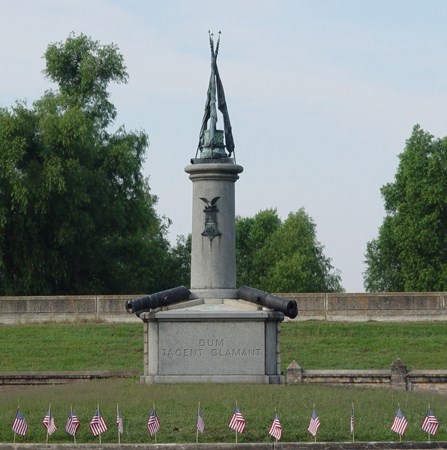 What are the hours and days of operation at Chalmette National Cemetery? Follow this link for hours and days of operation. Note that the Chalmette Battlefield Visitor Center (the battlefield is next to the national cemetery) is not open the same hours and days as the battlefield grounds and the national cemetery.
Is this cemetery the oldest national cemetery? Chalmette National Cemetery is not the oldest national cemetery, but it is the oldest in-ground cemetery in the New Orleans area. On July 17, 1862, President Abraham Lincoln approved legislation establishing national cemeteries for armed forces that fought for the United States. Chalmette National Cemetery was established in May of 1864. A pdf of a short history of the national cemetery is here; you are welcome to download and print this information.
What is the earliest burial at Chalmette National Cemetery? The earliest burial was just after the national cemetery was established in 1864. The first burials were disinterred soldiers from local hospital cemeteries in New Orleans which continued until 1866. Between 1867 and 1868, over 7,000 internments took place from surrounding city and fortification cemeteries.
Are there special rules about visiting Chalmette National Cemetery? Yes, out of respect for those buried here, please obey the following rules:
No pets are allowed, not even on the roadway or gravel trail. As always, service animals are welcome anywhere.
No picnics, sports, or games including jogging, skating, and bicycling are allowed in the cemetery.
No political gatherings are allowed in the cemetery.
No relic hunting is allowed; the possession or use of metal detectors is forbidden.
How do I find if someone is buried at Chalmette National Cemetery? Click here for the list of Chalmette National Cemetery headstones by name. Click here for listings by war and here for listings by cemetery section. Remember to try different spellings, like "Green" and "Greene."

What kind of grave decorations are permitted? Fresh cut flowers are allowed at any time. Artificial flowers and potted plants are allowed 10 days before and after Easter Sunday and 10 days before and after Memorial Day. Christmas wreaths and similar arrangements are allowed December 1 through January 20. Decorations may not be secured or attached to headstones, markers, or monuments. Withered and faded decorations will be removed by park staff. .
I'm a veteran. May I be buried at Chalmette National Cemetery? Chalmette National Cemetery is closed to new interments because space is no longer available. Exceptions may apply if burial space has already been identified or set aside. For information about national cemeteries, including the locations of those closest to Chalmette National Cemetery, visit the national cemeteries website of the Department of Veterans Affairs.
How many people are buried at Chalmette National Cemetery? The estimated number is close to 16,000. Numbers on stones show 15,228, but there are many mass burials of unknown numbers. As of spring 2015, there are 14,159 headstones, obelisks, or other markers in the national cemetery.
What became of the Confederate dead that once were buried in this national cemetery? There were 132 Confederate prisoners of war interred in Chalmette National Cemetery. In 1868, the Ladies Benevolent Association of New Orleans received permission to remove the Confederate remains to Cypress Grove Cemetery in New Orleans.
Are there troops from other countries buried in the national cemetery? One British seaman is buried in Section # 171 near the brick wall: Able Seaman Watcyn G. Jones died on May 16, 1943, on his ship the HMS Hunter in the port of New Orleans. Sylvester Gredzinski, a Canadian, was an Instrument Repairer in the Canadian Air Force who died on August 17, 1941; he is buried in Section #170, Grave #14179. Pedro Floresca, a veteran from the Philippine Islands, died December 14, 1939, and is buried in Section # 163, Grave # 14044.
What became of the British soldiers after the Battle of New Orleans? They are not buried in the national cemetery. There is no conclusive evidence where they are buried. One reference claims a British surgeon stated that he helped dig mass graves at the Villere Plantation. The only deceased soldiers taken back to England were Major General Edward Pakenham, General Samuel Gibbs, and Lieutenant Colonel Robert Rennie.
Where is the grave of the woman who disguised herself as a male Union soldier? Rosetta Wakeman disguised herself as a man under the name of Lyons Wakeman and joined the New York Volunteer Infantry. She was stationed at nearby Jackson Barracks where she died of dysentery in 1865. She is in Section # 52, Grave # 4066.
Last updated: July 9, 2019