Chalmette Battlefield
The 2021 commemoration of the Battle of New Orleans was held virtually. At this link you can explore videos and other information which give a background on the war, the people involved, life in the 1800s, and demonstrate our reproduction black powder program.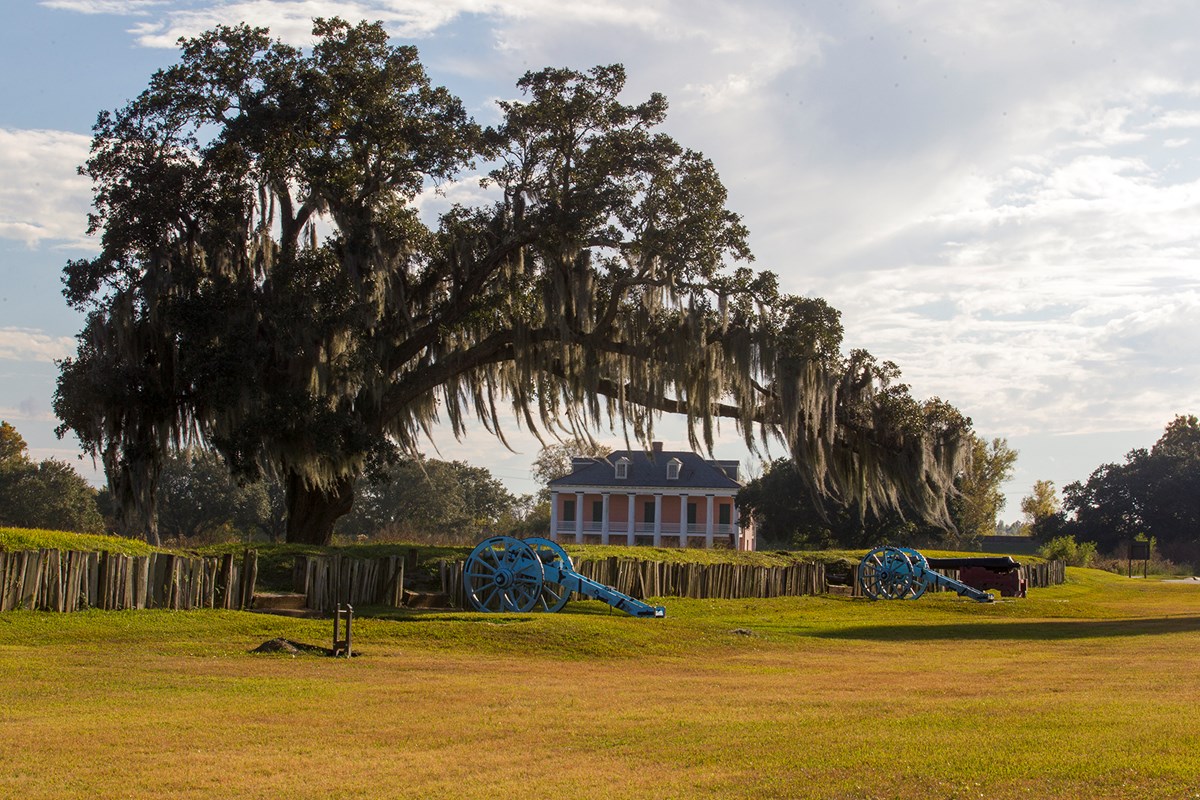 Chalmette Battlefield
1 Battlefield Rd.
Chalmette, LA 70043
504-281-0510

Chalmette National Cemetery
8606 West St. Bernard Hwy.
Chalmette, LA 70043
504-281-0510


Entrance gates to Chalmette Battlefield and Chalmette National Cemetry Grounds, as well as restrooms, are open to the public 9:00 a.m.-4:00 p.m. (9:30 a.m.-3:30 p.m. on federal holidays).
Pedestrian accesss to the grounds is available at any time.
Regarding operating status, be sure to check the latest alerts and conditions page.

WHAT'S HAPPENING
TEMPORARILY CANCELLED Battle of New Orleans talk - daily at about 10:45 a.m. and 2:45 p.m. when Creole Queen excursion boat docks at battlefield. The visitor center is open and talks are given on Memorial Day and Veterans Day. On all other federal holidays and on Mardi Gras, the visitor center is closed and no talks are given. Free.

Living history is a crucial part of programs and events at Chalmette Battlefield. To find out about participating in the living history program, email the park. Follow the link to the living history and historic weapons program policies and manuals web page to find useful information about historical authenticity in clothing and about historic weapons firing.
---
Just downriver from New Orleans in Chalmette is the site of the January 8, 1815, Battle of New Orleans: Chalmette Battlefield. Many people believe that this last great battle of the War of 1812 between the United States and Britain was unnecessary, since the treaty ending the war was signed in late 1814, but the war was not over. The resounding American victory at the Battle of New Orleans soon became a symbol of a new idea: American democracy triumphing over the old European ideas of aristocracy and entitlement. General Andrew Jackson's hastily assembled army had won the day against a battle-hardened and numerically superior British force. Americans took great pride in the victory and for decades celebrated January 8 as a national holiday, just like the Fourth of July.
Learn about the War of 1812 from visitor center films and exhibits. Kids can earn a badge with the Junior Ranger program. The visitor center's park store has books, period music, reproductions of items from the period, and children's books. Admission is free. Learn about the visitor center (dedicated on January 8, 2011). Follow these links for the park's calendar of events, exhibits, and programs; for directions and transportation options (be sure to see important information about using ride share services); and for accessibility information.

8606 West St. Bernard Highway, Chalmette (GPS users: to reach the battlefield visitor center, use One Battlefield Road. 8606 West St. Bernard Highway is the battlefield/national cemetery mailing address and GPS will provide directions to Chalmette National Cemetery)
504-281-0510
Entrance gates hours: Gates at the battlefield and at Chalmette National Cemetery (just downriver from the battlefield) are open 9:00 a.m.-4:00 p.m. Monday-Sunday. On federal holidays, gates are open 9:30 a.m.-3:30 p.m., except for Memorial Day and Veterans Day, when gates are open 9:00 a.m.-4:00 p.m. On Mardi Gras (Tuesday, March 5, in 2019), the battlefield is completely closed but the national cemetery is open 9:30 a.m.-3:30 p.m.

Links to useful information like maps, public transportation, pets, permits for special uses, etc., are available on the basic information page. The paddlewheeler Creole Queen travels from New Orleans' French Quarter to the battlefield; visit the Creole Queen website for sailing times and ticket information.
Special programs and activities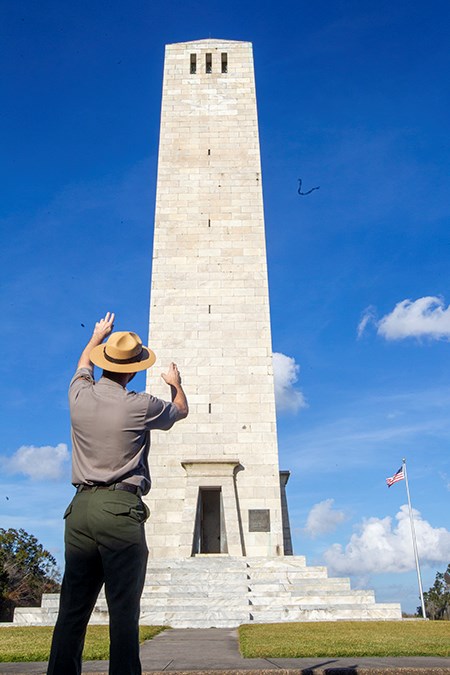 Learn More About
the Battle of New Orleans through the experiences of high school students who participate in the park's Recognizing Our Roots program and who serve as living history reenactors.

Chalmette Battlefield and the Battle of New Orleans at the Places page, where you can find lists of troops who fought at the battle, timelines, historical studies, and other information.
Fazendeville, a village founded in 1867 which stood on the battlefield site until the mid-1960s; find it at the Places page.
St. Bernard Parish, the home of Chalmette Battlefield
the War of 1812 bicentennial 2012-2015 at Jean Lafitte
the War of 1812. From muskets to tactics, from upcoming events to historical people and places, you can explore the War of 1812 at the official National Park Service War of 1812 website. Jean Lafitte's War of 1812 bicentennial 2012-2015 web page contains links to websites from throughout the United States and Canada with event listings, information, and more.
resources for teachers and field trip leaders, including education materials about the Battle of New Orleans.

the new management plan for the battlefield and national cemetery. Read it by clicking here.


Last updated: August 13, 2021