Chalmette Battlefield and National Cemetery Visitor Center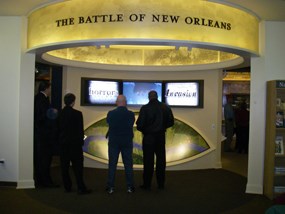 The visitor center at Chalmette Battlefield, site of the Battle of New Orleans in 1815, officially opened on January 8, 2011, the 196th anniversary of the battle.
During Hurricane Katrina in 2005, structures at the battlefield and in the adjoining national cemetery were severely damaged and the visitor center was destroyed. The new center measures 3,500 square feet, more than twice the size of the old center. Displays, interactive exhibits, maps, and short films address the War of 1812, the New Orleans campaign, the Battle of New Orleans on January 8, 1815, and the effect that the American victory had on Louisiana, the United States, and the world. One interactive exhibit tells the story of the site from 1815 through the Civil War and the founding of the national cemetery to Hurricane Katrina in 2005. Another explores 1815 weapons, tactics, Battle of New Orleans troops, and the life of a soldier. The visitor center also includes space for education programs.
Last updated: April 14, 2015