Boat Tours of Bayou Lafourche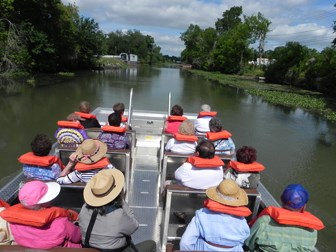 Cruise into Louisiana's past on a boat tour of Bayou Lafourche with a National Park Service ranger. Locally known as "the longest street in the world" in honor of the towns and homes along its banks, Bayou Lafourche once served as a major thoroughfare in watery south Louisiana.
Boat tours are offered throughout the year, weather permitting. Cruises cast off from the dock behind the Wetlands Acadian Cultural Center, 314 St. Mary Street in Thibodaux. Tours travel to the E.D. White Historic Site, birthplace of U.S. Supreme Court Chief Justice Edward Douglas White every Friday. No cruise on federal holidays when the Wetlands Acadian Cultural Center is closed. Tours leave the dock at 10:00 a.m. and return at noon.Tickets are free for the month of November.

Reservations are required; call 985-448-1375. You can also email the park for reservations; include this information in your email: first and last name, number of people in group, email address, and cell phone number. Tours are limited to 10 people (minimum of six). Children must be accompanied by an adult. The tour boat is partially handicapped accessible but is not accessible to wheelchairs; contact the center for details. Tour participants should dress for a day in the sun and arrive at the Wetlands Acadian Cultural Center by 9:30 a.m. Group boat tours are available by reservation.
Tickets for the boat tour in Thibodaux are free for the month of November.
Last updated: November 23, 2021