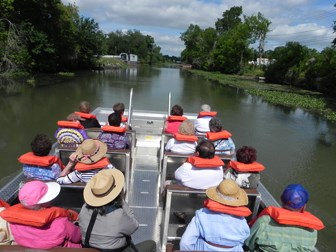 Cruise into Louisiana's past on a boat tour of Bayou Lafourche with a National Park Service ranger. Locally known as "the longest street in the world" in honor of the towns and homes along its banks, Bayou Lafourche once served as a major thoroughfare in watery south Louisiana.
Boat tours are offered in spring and fall, weather permitting. Cruises cast off from the dock behind the
Wetlands Acadian Cultural Center
, 314 St. Mary Street in Thibodaux. Tours travel to the
E.D. White Historic Site
, birthplace of U.S. Supreme Court Chief Justice Edward Douglas White every Wednesday, Thursday, and Friday 10:00 a.m.-noon. Bonus: enjoy a cooking demonstration by a local cook who's "Cajun born and raised" and who'll share the authentic tastes of Cajun country like coffee with chicory, cornbread, and real sugarcane syrup. Tickets are $10.00 (cash or check only; no credit cards). Spring cruising season is now over---see you in the fall!

Reservations are required; call the center at 985-448-1375. Tours are limited to 20 people (minimum of eight). Tour participants should dress for a day in the sun and arrive at the Wetlands Acadian Cultural Center by 9:30 a.m. Group boat tours are available by reservation. No tours on federal holidays when the center is closed.