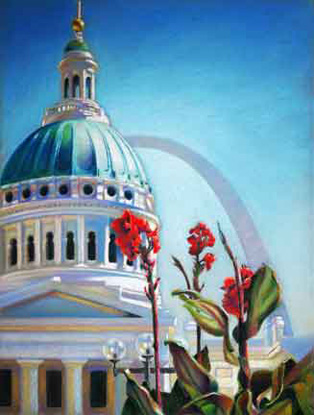 News Release Date:
August 1, 2008
WHERE:  Jefferson National Expansion Memorial, Historic Old Courthouse rotunda, 11 North Fourth Street, St. Louis, Missouri
WHEN:   August 1, 2008 – September 15, 2008
WHAT:    One of the first stops on this year's "PaintAmerica" tour will be Jefferson National
Expansion Memorial. Formerly known as "Arts for the Parks," the top entries in the competition will be featured at the Historic Old Courthouse, from August 1, 2008 to September 15, 2008. The exhibit honors artists whose paintings best capture the "essence" of the landscape, wildlife, and history of the National Park System. The PaintAmerica exhibit is free and open to the public from 8 a.m. to 4:30 p.m. daily.
WHY:      PaintAmerica's "Paint the Parks" exhibit tours the nation, and helps fund the
PaintAmerica mission of supporting the visual arts and artists across the country.  A portion of the proceeds from "Paint the Parks" are contributed annually to the National Parks Foundation and the PaintAmerica Scholarship Fund. Paintings must depict one of our nation's 390 areas supervised by the National Park Service.  Juried paintings are chosen by a three person panel of nationally recognized artists or arts professionals.  In each of the three National Park Regions that PaintAmerica uses to divide the nation, a winner is chosen, plus the Grand Prize Purchase Award of $10,000. Visit www.paintamerica.org for additional information.
07/28/08