Lewis and Clark Timeline 1803
1803 - The Preparation
The following portion of this script is based on information in Donald Jackson's Letters of the Lewis and Clark Expedition, with Related Documents, 1783-1854. Urbana: University of Illinois Press, 1962.
April 20, 1803 - Lancaster, Pennsylvania - Lewis traveled to Lancaster to confer with astronomer Andrew Ellicott and to learn to plot latitude and longitude as part of his training to lead an expedition to the Pacific Ocean.
May 7, 1803 - Philadelphia, Pennsylvania - Lewis continued his training by meeting with Dr. Benjamin Rush to learn about medicine, Dr. Benjamin Smith Barton to learn about botany, zoology, and Indian history, with Robert Patterson on surveying, and with Dr. Caspar Wistar to be instructed about natural science.
July 4, 1803 - Washington, D.C. - President Jefferson officially sent Lewis on his mission, writing that: " . . . the object of your mission is to explore the Missouri river, and such principal streams of it, as, by its course and communication with the waters of the Pacific Ocean, whether the Columbia, Oregon, Colorado or any other river, may offer the most direct and practicable water communication across this continent for the purposes of commerce . . . " The President gave Lewis a "letter of general credit" dated July 4, 1803. News of the purchase of the Louisiana Territory was published in the newspapers on this day.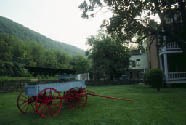 July 6, 1803 - Harpers Ferry, West Virginia - Lewis picked up supplies and equipment manufactured or stockpiled in the spring to take overland to the Pittsburgh area.
July 17, 1803 - Elizabeth, Pennsylvania, in the Pittsburgh area - Lewis was held up for over a month waiting for his 55-foot keelboat to be built. Modern scholarship suggests that the boat was built at Elizabeth, Pennsylvania, south of Pittsburgh on the Monongehela River.
The following is based on information in Gary E. Moulton, ed. The Journals of the Lewis and Clark Expedition. Lincoln: University of Nebraska Press, Volume One, Atlas, and Volume 2, August 30, 1803- August 24, 1804.
August 31, 1803 - Elizabeth, Pennsylvania - The 55 foot long keelboat was completed on this day, and Meriwether Lewis began his journey down the Ohio River. George Shannon and John Colter may have joined the expedition on this day.
September 11, 1803 - Opposite Grand View, Ohio - Lewis noted squirrels swimming in the river. The first mention of Lewis' Newfoundland dog Seaman was made in the journals.
October 4, 1803 - Big Bone Lick, Kentucky - Lewis studied fossil remains here of mastodons and other extinct creatures.
October 14, 1803 - Clarksville, Indiana; Louisville, Kentucky - Lewis joined his old friend William Clark, Clark's slave York, and the "young men from Kentucky" including Joseph and Reubin Field, recruited by Clark on August 1, and Charles Floyd and George Gibson.
November 11, 1803 - Fort Massac, Illinois - Lewis hired interpreter George Drouillard and gained volunteers from the U.S. Army: John Newman and Joseph Whitehouse of Daniel Bissell's 1st Infantry Regiment.
November 15, 1803 - Cairo, Illinois - Lewis and Clark learned to use surveying instruments in a practical test at the confluence of the Ohio and Mississippi Rivers; they also used their astronomy skills. They met with Delaware and Shawnee Indians.
November 23, 1803 - Cape Girardeau, Missouri - Lewis attended a horse race, and met the attractive daughter of Louis Lorimier, the town's most influential citizen.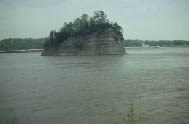 November 29, 1803
- Fort Kaskaskia, Illinois - Fort Kaskaskia was an active U.S. Army installation in 1803. Six men enlisted here from Russell Bissell's Company, 1st U.S. Infantry Regiment: Sgt. John Ordway and privates Peter M. Weiser, Richard Windsor, Patrick Gass, John Boley, and John Collins; and six men of Capt.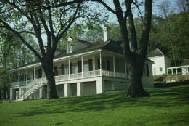 Amos Stoddard's company, U.S. Corps of Artillery: John Dame, John Robertson, John B. Thompson, Ebenezer Tuttle, Isaac White, and Alexander Hamilton Willard. Kaskaskia was a town of 467 people when Lewis and Clark visited in 1803.
December 7, 1803 - William Clark landed at Cahokia, Illinois with the expedition's three boats; Lewis arrived at Cahokia by land. Cahokia was an important town of about 700 residents in 1803.
December 8, 1803 - St. Louis, Missouri - Lewis traveled across the river to St. Louis to meet with Spanish Governor Delassus. St. Louis was governed by the Spanish and had about 925 residents in 1803. Lewis asked Delassus's permission to continue up the Missouri River, but was told that he could not proceed on until he received clearance from Spanish authorities superior to Delassus.
December 9, 1803 - Lewis rejoined Clark at Cahokia, Illinois - Lewis and Clark decided to stay in the St. Louis area for the winter to stock up on supplies and build a cohesive military unit fit for exploration out of the disparate set of volunteers they had accumulated. Their camp had to be on the Illinois side of the river until Upper Louisiana was transferred to the United States.
December 12, 1803 - Clark and the men traveled to the Wood River or Camp River Dubois site, (Lewis and Clark Trail Site #1), in Illinois. On December 13, Clark set the men to work clearing land for Camp River Dubois.
December 22, 1803 - Camp River Dubois, Illinois - The keelboat was put up on shore for modifications; George Drouillard arrived in camp with men from the 2nd Infantry Regiment, U.S. Army, who had been stationed at South West Point, Tennessee: Corp. Richard Warfington, Pvts. Hugh Hall, Thomas Proctor Howard, and John Potts.
December 25, 1803 - Camp River Dubois, Illinois - The men celebrated Christmas in the camp; two men got drunk and fought.
Last updated: April 10, 2015