Sgt. Charles Floyd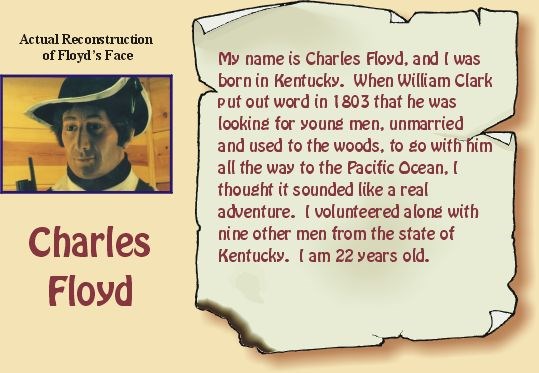 P.S. Captains Lewis and Clark thought I was a pretty good soldier and made me a sergeant. I faithfully kept a journal as we traveled along the Missouri River in 1804. While we traveled up the Missouri, I suddenly got sick and died. People today say it was a burst appendix, and that there was nothing even doctors could have done to help me in those days. I was the only permanent member of the expedition who didn't get to see the Pacific Ocean. A posthumous land grant was later given to my brothers and sisters.

About St. Charles Floyd's Picture Above:
"Sgt. Charles Floyd's skull was recovered from the grave in 1895, photographed, and a cast was made. The cast and other forensic evidence was used by an expert (and descendant of Floyd's brother) named Sharon Long to construct this model of Floyd's face. This mannequin is on display at the Sgt. Floyd River Museum/Sioux City Public Museum in Sioux City, Iowa, near the Floyd gravesite."
Last updated: April 10, 2015