Professional Development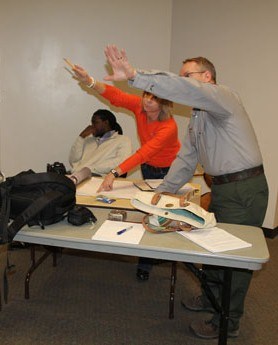 Teacher workshops
Teacher workshops at the Arch
and Old Courthouse are supported
in part by Jefferson National Parks
Association. See workshops offered
below.

At this time there are no workshops scheduled.
Please check back later for future offerings.
Free Professional Development Workshops
(presented at Gateway Arch National Park or your school)
Park education staff will develop a workshop that fits your school's needs. We can travel to your school or your staff can come to the park. The workshop length can be tailored to fit your schedule, from 1 hour up to 4 hours. All workshops use curriculum-based, interdisciplinary activities to explore the themes of the park.
General workshop topics include:
Lewis & Clark
Plains Indians
Mountain Men (fur trappers and fur trade)
Pioneers on the Trail
Homesteading in the West
Transportation and Westward Expansion
Cowboys
African Americans in the West
Women in the West
Dred and Harriet Scott
Slavery and Freedom in Antebellum St. Louis
Mississippi River: History and Culture
Civil Rights Trials (Dred Scott and Virginia Minor)
Citizenship in the 1800s

Presenting Mock Trials
Using 19th century Historic Documents
Overview of museum education programs and resources for school groups
For more details call Gateawy Arch National Park Education Office at 314-655-1635
.


Last updated: April 30, 2020