Museum of Westward Expansion Programs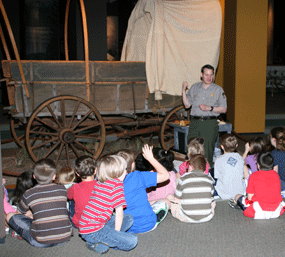 Exhibits in the Old Courthouse allow students to continue learning about westward expansion while the Museum of Westward Expansion is closed. Exhibit themes cover colonial St. Louis, Lewis & Clark, mountain men, Plains Indians and pioneers.
National Park Service rangers will use living history items, such as clothing, tools and documents, in addition to museum exhibits and historic images to teach students about the people, places, and events of American westward expansion during the 1800s.

Pre-visit and post-visit materials have been developed for each topic. Please contact us for the documents on these topics:

Lewis and Clark
Plains Indians
Mountain Men
Pioneers

Reservations must be made 30 days in advance. Call 877.982.1410 for reservations.
Last updated: January 16, 2018