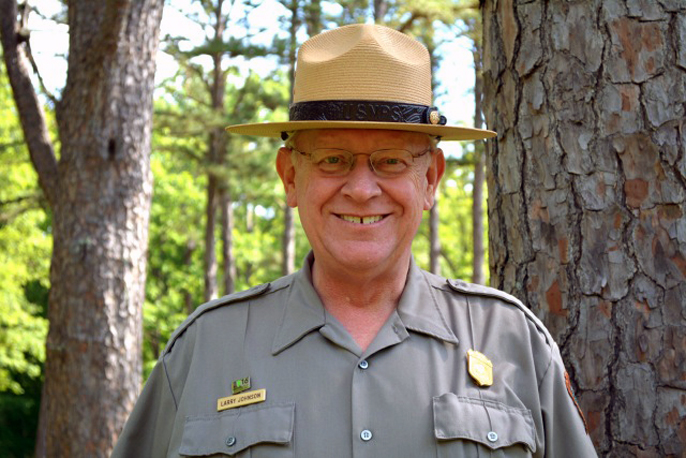 News Release Date:
June 11, 2015
Contact: Bradley Block, 605-673-8330
Jewel Cave National Monument, SD – Larry Johnson, a 32-year veteran of the National Park Service (NPS), has been selected as the new Superintendent of Ozark National Scenic Riverways (Riverways). Johnson is currently theSuperintendent of Jewel Cave National Monument, located west of Custer along Hwy 16. He begins his new assignment in mid-June.
"Larry has a wealth of experience that he brings to this position, stated Midwest Regional Director Cam Sholly. He served as the Chief Ranger at the park earlier in his career, and his familiarity with the community, the issues and the staff will be an asset. He is assuming leadership at an important time as the park is engaging the community in ongoing planning efforts. Larry's experience in collaboration and partnerships will serve the park well."
Johnson said, "It's a privilege and an honor to be able to return to Ozark Riverways as the Superintendent. Nonetheless, I have greatly enjoyed my time at Jewel Cave and worked with some wonderful staff members, as well as completed some major projects in the past few years. With new Visitor Center exhibits and parking lot, new tour ticketing kiosk, a Visitor Center expansion underway this summer, and an interpretive film under production, we are transforming the visitor experience. "
Johnson holds a Bachelor's Degree in Outdoor Recreation Resource Management from Iowa State University, and completed Harvard University's Kennedy School of Government Executive Education Program, the NPS New Superintendent Academy, and the National Parks Institute. A native of Des Moines, Iowa, he began his NPS career at Herbert Hoover National Historic Site as a Supervisory Park Ranger. He has also worked as a District Ranger at Apostle Islands National Lakeshore, Yellowstone National Park, and Voyageurs National Park where he earned the Midwest Region's Harry Yount Award for excellence in rangering. He served as the Chief Ranger at Harpers Ferry National Historical Park and Sleeping Bear Dunes National Lakeshore. He also served as Acting Deputy Superintendent at Badlands National Park.
Johnson and his wife, Jan, a writer and artist, enjoy hiking and bicycling, visiting historic sites, and researching family history. Before moving to Missouri, Larry has been detailed to nearby Badlands National Park as Interim Superintendent.
Ozark National Scenic Riverways was created by an act of Congress on August 24, 1964 to protect 134 miles of the Current and Jacks Fork Rivers in the Ozark Highlands of southeastern Missouri. The clean, clear waters of these two beautiful rivers provide excellent opportunities for johnboating, canoeing, swimming, fishing, and tubing. Hiking, hunting and horseback riding are also enjoyed in the park. In his new role, Johnson will manage a workforce of approximately 92 employees and an annual operating budget of more than $6.5 million.