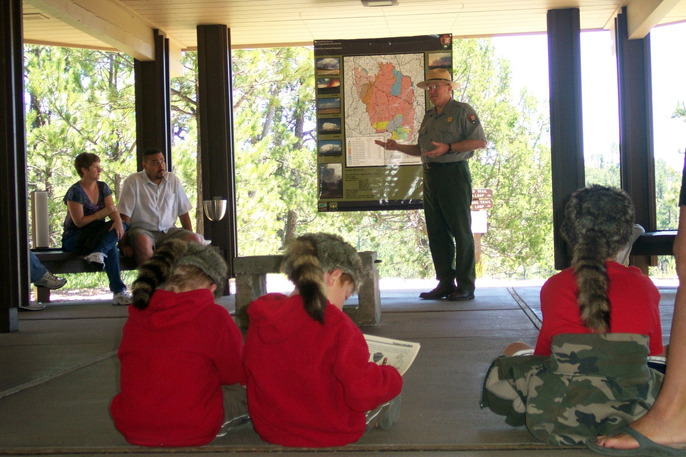 News Release Date:
June 12, 2015
Contact: Bradley Block, 605-673-8330
Jewel Cave National Monument, SD - Jewel Cave National Monument is excited to announce the summer dates for its Special Junior Ranger Days. The Monument is offering three programs for young park enthusiasts, ages 5 – 12. Each program provides participants with a hands-on educational activity that complements the stories of the Monument.
Program dates include June 27, July 25, and August 22; the activities are scheduled for 10:00 – 11:30 a.m. on each date. All participants are required to have a parent or adult guardian on site at all times. Each program will begin at the front patio of the visitor center. Reservations are not required; however, interested participants are encouraged to call the visitor center for additional details and to ensure that adequate program supplies are available. Youth participants will receive a 2015 Junior Ranger Badge and certificate.
June 27: Discovering the Signs of Wildlife
July 25:  How Do Caves Form?
August 22: Explore the World of Bats
Superintendent Larry Johnson, states, "The Find Your Park campaign is focused on connecting with and creating the next generation of park visitors. Youth are the future visitors of park sites, and we truly want to offer them some memorable learning experiences. We hope the Special Junior Ranger Days will encourage visitors to spend more time at the Monument and discover even more about Jewel Cave."
In addition to these special programs, the Monument offers the opportunity for youngsters to become Junior Rangers or Pee Wee Rangers throughout the year. Children ages five to twelve qualify for the ever-popular Junior Ranger activity booklet. Kids ages three to four are offered the Pee Wee Ranger booklet. Both booklets can be obtained from a park ranger at the visitor center.
Jewel Cave National Monument is open throughout the summer season, seven days a week. The visitor center is open daily from 8:00 a.m. to 5:30 p.m. Four different cave tours are available: Scenic Tour, Discovery Tour, Historic Lantern Tour, and Wild Caving Tour. The first cave tour departs at 9:00 a.m., and the last cave experience enters at 4:35 p.m. Cave tour tickets are sold on a first come first serve basis.
For youth that do not have the opportunity to visit the Monument, the National Park Service offers a WebRanger Program. Participants start their online journey by visiting www.nps.gov/webrangers and setting up a ranger station. Kids are then encouraged to visit sites online and take a digital vacation across the country. Over 250,000 WebRangers took part in the online program last year.
For more information about the National Park Service, visit www.nps.gov. For specific information related to Jewel Cave, contact the visitor center at (605) 673-8300 or visit online at www.nps.gov/jeca.