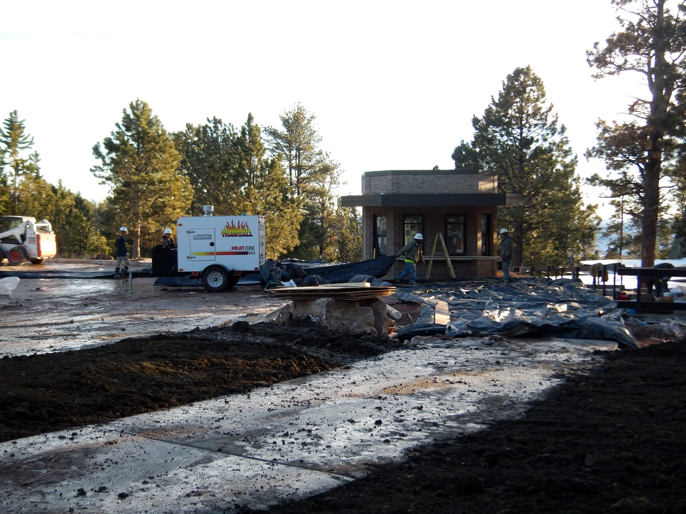 News Release Date:
January 16, 2015
Contact: Bradley Block, 605-673-8330
Custer, SD – Over 95 percent of the parking lot at Jewel Cave National Monument is complete, and construction crews are taking advantage of the unseasonal weather conditions to keep moving forward. Although more concrete needs to be poured, winter guests can still access the visitor center for guided cave tours and interpretive programs. 
The patio outside the visitor center was poured in August and is currently being used by visitors. The wheelchair ramp leading to and from the parking lot is nearing completion. The steps have been poured with concrete; however, handrails still need to be installed. The new ticket kiosk is witnessing interior work. The walkways of the visitor center are gradually being transformed into safer and more accessible areas.
Facilities Manager John F. Black states, "The parking lot project is nearing completion, yet there are still some areas that will be worked on into the spring season. We expect to review the project when warmer temperatures occur in a few months. However, we fully anticipate that the parking lot will be done before summer visitation."
Due to limited visitation during the off-season, the monument is only open Monday through Friday, from 8:30 a.m. – 4:30 p.m; the monument is closed on federal holidays during the winter months. Ranger-guided cave tours occur on Wednesdays, Thursdays, and Fridays; staff conduct off-site educational programs on Mondays and Tuesdays. All cave tour tickets are sold on a first come first serve basis within the visitor center.
For information relating to the off-season tour schedule, visit Jewel Cave online at www.nps.gov/jeca and select the link for Operating Hours and Seasons. For additional planning assistance, visitors are also welcome to contact park staff at 605-673-8300 or jeca_interpretation@nps.gov.