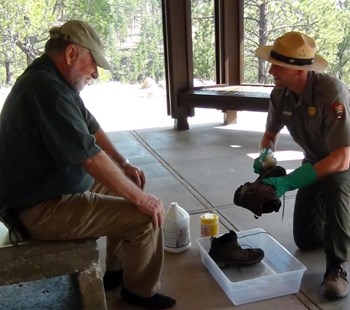 How can you help stop the spread of White Nose Syndrome? Do not handle any bats, living or dead. If you come across bats suspected of having White Nose Syndrome, contact any nearby wildlife agency. If you have visited caves or mines suspected to contain White Nose Syndrome, follow appropriate decontamination protocols to prevent transmission of the disease.
You can also help bats when they are not hibernating by planting moth-attracting wildflower gardens and by installing bat houses to provide additional habitat.
Most importantly, you can increase awareness among your friends and family by talking about White Nose Syndrome and the importance of bats.
For more information on White Nose Syndrome and the decontamination process prior to visiting caves, please visit www.WhiteNoseSyndrome.org.
Help Protect Jewel Cave's Bats
In order to protect the bats at Jewel Cave, a visit to the monument may involve the following questions:
Have you visited any other caves recently?

Are you wearing any of the same articles ofclothing, such as boots, shoes, or coats?

Are you bringing any personal items into thecave from this previous trip?
If you answer yes to any of these questions, you may need to decontaminate or store these items in your vehicle. Please ask a Park Ranger for more information.