Park Closures
Date: January 13, 2010
Contact: Mike Litterst, 757-898-2409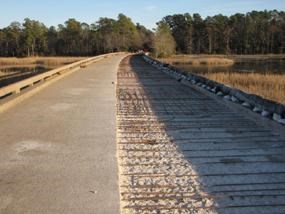 The Colonial Parkway between Route 199/King's Point and Route 359 (Jamestown) is closed to through traffic due to a boating accident that severely damaged a support piling on the Powhatan Creek bridge. Repairs to this bridge are behind schedule by 6-8 weeks due to uncooperative weather and construction delays. Record precipitation in November and December, combined with the current cold snap, will delay completion of the repairs until at least late spring.
From Williamsburg, the Parkway remains open to traffic as far as the Jamestown Information Station at Neck 0f Land to allow use of the turnouts at College Creek, Archer's Hope and Mill Creek. However, through traffic from Williamsburg to Jamestown will need to make use of the marked detour utilizing Route 199, Jamestown Road (Route 31), and Route 359. Traffic across the Powhatan Creek Bridge in both directions is CLOSED to all traffic; vehicular, bike and pedestrian.
The bridge was initially closed on July 24 for emergency repairs. The bridge has remained closed following those emergency repairs to allow for previously scheduled resurfacing of the bridge decking. Current projections estimate that the bridge will reopen in late June, 2010.
The Powhatan Creek bridge work is part of a $2.35 million Federal highway Administration contract to make repairs and other improvements to bridges and access ramps along the Colonial Parkway.
Last updated: March 31, 2012