Meet the State-Recognized Virginia Indian Tribes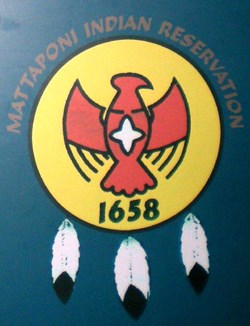 Mattaponi Tribe (Banks of the Mattaponi River, King William County; 450 tribal members, 150 acres) - The Mattaponi are one of two tribes in Virginia that own reservation lands. The reservation dates back to treaties signed with the English in 1646 and 1677 - the land base was established as early as 1658. The Mattaponi still make the yearly tribute payment - of fish and game - as stipulated by these treaties. Every November, on the Wednesday before Thanksgiving, the tribe goes to the Virginia Governor's mansion in Richmond. They present some pottery and a deer or turkey to the governor and then have a private audience with the governor.

The tribe has one of the oldest reservations in the country and traces its roots to the powerful Powhatan Paramount Chiefdom, which encompassed most of Tidewater Virginia and was headed by paramount chief Powhatan (father of Pocahontas). Since the reservation lands were affirmed in 1658, the Mattaponi have maintained their heritage and many customs despite outside pressure to assimilate with mainstream culture.

Over the years, the reservation has diminished in size to the current 150 acres, part of which is wetland. The reservation has living quarters, a small church, a museum, a few pottery shops, the Fish Hatchery and Marine Science Facility, and a community tribal building that was once the reservation school. Only about 75 tribal members live on the reservation. The Mattaponi Tribe has its own sovereign government, with a governing body made up of the chief, assistant chief, and seven councilmen. The main goal of the Mattaponi is to maintain a sustainable community that will continue the thousands of years of Mattaponi history and heritage and, in so doing, demonstrate how everyone can live successful and rewarding lives in harmony with the earth.

The Hatchery and Marine Science Facility continues the tradition of Mattaponi people working in harmony with the land and river. The facility supports traditional work with shad and has several programs, including fish tagging, water quality monitoring, and the development of educational materials about protecting water resources.
Website - none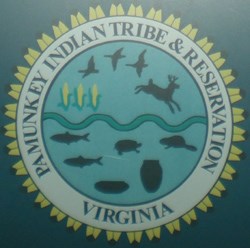 Pamunkey Tribe (Banks of the Pamunkey River, King William County; 200 tribal members, 1,200 acres) - The Pamunkey are the second tribe that own reservation lands, 500 acres of which are wetlands with many creeks. They were the most powerful tribe in the Powhatan Paramount Chiefdom. The Pamunkey are very proud of their history and of the bravery their ancestors showed against the encroaching Englishmen. Only about 36 tribal members live on the reservation itself; others live in nearby Richmond, Newport News, as well as other parts of Virginia and across the United States. Archeologists, historians, and anthropologists put Native occupation of these lands back 10-12,000 years. Treaties signed in 1646 and 1677 with the English began the establishment of reservations. The 1677 treaty, known as the Treaty of Middle Plantation, was signed by the headwoman of the Pamunkey, Cockacoeske, on behalf of several Virginia Indian tribes. The Pamunkey land base was established as early as 1658 and continues as the present day reservation. The Pamunkey have been recognized as an Indian tribe since colonial times, and also still makes the yearly tribute payment as stipulated by the treaties of 1646 and 1677.

The tribe's governing body, which it has maintained, consists of a chief and seven council members that are elected every four years. Elections are held in the traditional manner, with a corn kernel used for a "yes" vote and a pea for a "no" vote. The person with the most corn is elected. The governing body is responsible for all tribal governmental functions as set forth by their laws. The tribe administers all the laws itself.

The Pamunkey are deeply involved in preserving their way of life and natural resources. A museum was built on the reservation in 1979 to portray history and culture of the people (several documentary videos have also been made). Even as the old ways of subsistence centered around pottery making, fishing, hunting and trapping pass, the Pamunkey continue to look to their natural resources to make a living. They also still make pottery in the traditional manner, and have done so continuously since aboriginal times. The tribe is also proud to have tribal members that have served in the U.S. Armed Services during every war and major conflict since the Revolutionary War.
Website - www.pamunkey.net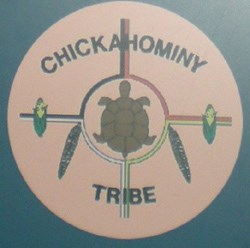 Chickahominy Tribe "Coarse-pounded corn people" (Charles City County; 840 tribal members, 110 acres) - The tribe lives near where it did in 1600. During the time of Jamestown's founding they lived in established villages along the Chickahominy River, from the mouth of the river near Jamestown, to the middle of the current county of New Kent. Because they were close to Jamestown they had early contact with the English settlers. They traded food for other items during the first few winters, which helped the English survive, and later taught them how to grow and preserve their own food. Several trading expeditions were made up the Chickahominy River by Captain John Smith.

When the English first arrived the tribe was led by a council of elders and religious leaders called mungai or "great men." As the English expanded their settlements over time they eventually crowded the Chickahominy out of their homeland. The treaty of 1646 saw the tribe granted reservation land in the Pamunkey Neck area of Virginia, near the present day Mattaponi reservation. Over time the tribe lost their reservation and tribal families began to migrate to Chickahominy Ridge, where they are now.

The families then started to purchase land for homes and established the Samaria Baptist Church, which serves as an important community focal point. Land was also purchased for tribal use and a tribal center was eventually built. Every year, in October, the tribe holds the Fall Festival and Powwow on its land near the tribal center. People from all over the United States attend, particularly those from the East Coast.

Today, a tribal council is elected by the tribal members through a vote. The tribal council is made up of twelve men and women, including a chief and two assistant chiefs. Most of the tribe lives within a five-mile radius of the tribal center, but several hundred more live in other parts of the country. Since 1996, the tribe has been working to attain federal recognition.
Website - www.chickahominytribe.org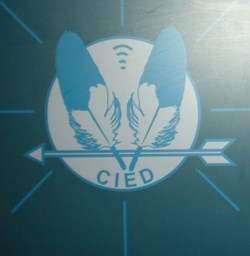 Eastern Chickahominy Tribe (New Kent County; 164 tribal members, 41 acres) - The Eastern Chickahominy Tribe shared a history with the Chickahominy Tribe until the early 20th century. At that time the Eastern Chickahominy decided to split off and formed their own tribal government. The split was caused because of travel inconvenience of attending tribal meetings in Charles City County, though others say the split occurred because of disagreements over land use and religion.

A school was opened in 1910 in New Kent County for the tribe. In this one -room school grades 1-8 were taught. In 1920-21, the separate tribal government was formally organized and E.P. Bradby was made Chief. Tsena Commocko Indian Baptist Church was organized in September of 1922. Services were held in the school until the church was built. A certificate of incorporation was issued to the tribe in 1925. Most of the tribal members live in Virginia, but close to 70 live out of state. Twenty-six tribal members have served in the Armed Forces since World War I, a point of pride for the tribe. Today, most of the tribal members work in the private sector in such areas as technology, nursing, business administration, and privately owned businesses.

The tribe plans to build a tribal center and museum on their land in which to hold functions in an environment of fellowship and interaction with out of state visitors. The hope is to enrich and educate everyone, tribal and non-tribal members alike, and is a driving force to move forward. Tribal meetings are currently held in the Tsena Commocko Baptist Church Fellowship Hall. Since the 1990s, the tribe has been trying to obtain federal recognition.
Website - www.cied.org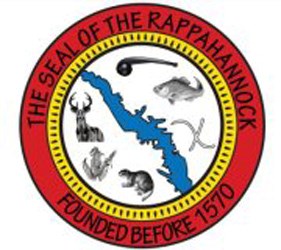 Rappahannock Tribe "Where the tide ebbs and flows" (Indian Neck, King and Queen County; 500 tribal members, 132 acres) - Before Jamestown, in 1603, the Rappahannock first encountered the English when a small English crew was out exploring the Rappahannock River. The Rappahannock chief befriended the captain. The captain then killed the chief and kidnapped a group of Rappahannock men, who were taken to England. Later that year, these men were reported to be giving dugout canoe demonstrations on the Thames River.

The tribe met Captain John Smith for the first time in December 1607, at their capital "Topahanocke." Smith was a prisoner of Opechancanough at the time. He was brought to the town so the people could determine if he was the same man who had murdered their chief and kidnapped some of their people in 1603. Smith was not that man and, in summer 1608, returned to the area when he mapped 14 Rappahannock towns on the north side of the river. The south side of the river was the primary hunting ground for the Rappahannock.

Starting in the 1640s the English began settling the Rappahannock River valley, illegally. Following Bacon's Rebellion in 1676, the Rappahannock moved into one village. In November of 1682 the tribe was given a 3,474 acre reservation in Indian Neck, where their descendants live today. The following year, the Virginia Colony forcibly removed the tribe, relocating them to the frontier to act as human shields to protect white Virginians from the attacks by New York Iroquois.

The Rappahannock incorporated in 1921, in an effort to solidify their tribal government and to help gain state recognition. By 1997, two phases of construction were complete on their cultural center and in 1998 they elected the first female chief since the 18th century, G. Anne Richardson. She comes from a long line of chiefs - she is a fourth-generation chief in her family - and so has a long legacy of traditional leadership and service among her people. The same year the tribe purchased its 110 acres and established a land trust to build their housing development; the first home built was sold in 2001.

Every year, the Rappahannock hosts their harvest Festival and Pow-wow the second Saturday in October at their Cultural Center in Indian Neck. They also have a drum group, the Maskapow ("Little Beaver") and a traditional dance group, the Rappahannock Native American Dancers. Both groups perform both locally and abroad in an effort to educate the public about the tribe's history and tradition. In 1996, the tribe again began working to gain federal recognition; the process had started in 1921 when Chief George Nelson petitioned the U.S. Congress to recognize the tribe's civil and sovereign rights.
Website - www.rappahannocktribe.org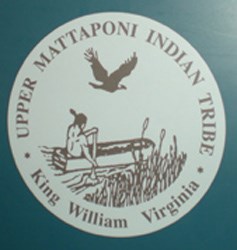 Upper Mattaponi Tribe (King William County; 575 tribal members, 32 acres) - For hundreds of years the ancestors of the Upper Mattaponi lived along the waterways, harvested corn, beans and squash and hunted deer. When the English arrived in 1607 they were prosperous members of the Powhatan Paramount Chiefdom. Captain John Smith's 1612 map shows a village called Passaunkack in the same place where the tribe's current location is.

In the mid-17th century, other tribes had been forced by the English into the upper reaches of the Mattaponi River, which was still frontier. A map by August Hermann in 1673 shows the largest concentration of Indians near the Upper Mattaponi home, Passaunkack. Werowansqua Cockacoeske signed the Treaty of 1677 on behalf of the Upper Mattaponi, and a reservation was established near Passaunkack of Chickahominy and Mattaponi. The Chickahominy moved back to their homeland in the 18th century; those that remained are the ancestors of the Upper Mattaponi Tribe.

Through the 18th and 19th centuries, the Upper Mattaponi were called the Adamstown band, since so many tribal members had the last name of Adams. A core group of at least 10 Adamstown families were documented farming and hunting in the area by 1850. An 1863 Civil War map listed the area as Indian Land, and by the 1880s the Adamstown Band had their own school. The racial climate of the time made it difficult for Indian people to prosper and limited their rights. Despite that, the tribe valued education and in 1892 the first federal funds were requested for education of the Adamstown Indians. The early 20th century saw a cultural revival that spread to tribes throughout the region, and the tribe officially took on the name the Upper Mattaponi Tribe. Sharon Indian School, a small one-room schoolhouse, was built in 1919. The building was used until 1952, at which point a brick structure was built adjacent to the original building. Upon desegregation in 1965, the school was closed and is now on the Virginia Landmarks Register and the National Register of Historic Buildings. Today, Sharon Indian School is the only public Indian school building still existing in Virginia. It continues to be used for events such as tribal meetings and cultural gatherings.

Most Upper Mattaponi people had converted to Christianity by the 19th century and worshipped in their homes or in other Indian churches, in particular the churches on the Pamunkey and Mattaponi reservations. In the early 20th century church services were held in the one-room school, but the tribe built a new church, Indian View Baptist, in 1942. Homecoming is held on the grounds every summer and hundreds of Upper Mattaponi, as well as dozens of Indians from other Virginia tribes, join together there.

The Upper Mattaponi maintained their tribal identities, but became part of the fabric of mainstream America during the last half of the 20th century as physicians, pharmacists, accountants, and business owners. The tribe also purchased land, where they currently hold cultural events and plan to develop a new tribal center. The tribe has been working for federal recognition since the 1990s.
Website - www.uppermattaponi.org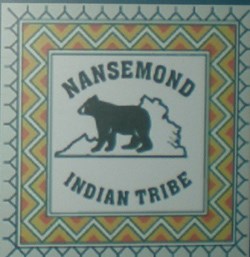 Nansemond Tribe (Cities of Suffolk and Chesapeake; 200 tribal members, 0 acres) - When the English first arrived, the Nansemond Tribe lived in villages along the Nansemond River centered near Chuckatuck, present day Suffolk. The chief, as well as the tribe's temples and sacred items, were on Dumpling Island. The tribe numbered about 1,200 people, with 300 bowmen.

In 1608, the English raided the Nansemond towns, burning houses and destroying canoes, to force them to give up their corn. The raid began open hostilities between the two peoples. The tribe had to relocate their tribal lands and their reservation on several occasions over the years because of more Europeans coming into the Nansemond River area. The last know reservation lands were lost by the tribe by 1792.

Today, most Nansemond tribal members live in the Suffolk and Chesapeake areas. Monthly meetings are held at the Indiana United Methodist Church. The church was founded in 1850 as a mission for the tribe and it is adjacent to the site of earlier tribal schools. Tribal members operate a museum and gift shop in Chuckatuck (Suffolk). The tribe also plans to build a tribal center, museum, and living history area on ancestral lands. The area, Mattanock, is currently owned by the city of Suffolk and the tribe is asking for 100 acres of a 1,000 acre riverfront park. They plan to reconstruct Mattanock, an ancient town of their ancestors, in hopes to draw tourists and provide a center for their tribe. In November 2010, the tribe's request for the land was granted by Suffolk officials; the process later stalled when the tribe had concerns over the city's proposed development agreement. The Nansemond co-host a powwow every June with the City of Chesapeake and hold their Annual Powwow each August. Since the 1990s, the tribe has been trying to gain federal recognition.
Website - www.nansemond.org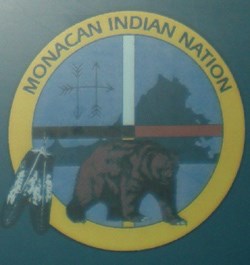 Monacan Nation (Bear Mountain, Amherst County; 2,000 tribal members, 180 acres) - The Monacan Indian Nation lives in lands occupied by Natives for more than 10,000 years. The tribe and its allies made up more than half of Virginia, including almost all of the Piedmont region and parts of the Blue Ridge Mountains. The Monacan Nation is one of the oldest groups still residing in their ancestral homeland, and is the only Eastern Siouan people in Virginia.

According to officials, at one time Siouan-speaking people were unified, in the Ohio River Valley, thousands of years ago. The tribes moved east and west, becoming the Eastern and Western Siouan. The Monacan language is related to other Eastern Siouan tribes, like the Tutelo. The Monacan are also related to the Occaneechi and Saponi, now located in North Carolina, and were affiliated with the Mannahoac, who lived in the northern Piedmont of Virginia.

Monacan people traditionally buried the remains of their dead in sacred earthen mounds constructed over time. Thirteen such mounds have been found throughout the Blue Ridge and Piedmont regions of Virginia, some are more than 1,000 years old. In the 18th century, Thomas Jefferson observed several Indians visiting one such mound on his property that he later excavated. Because he documented the findings, Jefferson became known as the father of American archeology.

The Tribe's ancestral museum and cultural center is at St. Paul's Episcopal Mission at Bear Mountain. The land on which the tribal center sits was returned to the Monacan Nation in 1995 by the Episcopal Diocese, ending nearly a century of church control over the sacred area. The tribe also purchased more than 100 acres on Bear Mountain and two other parcels of land in the same area. A cultural education program was begun by the tribal members, as well as an elders' program and a tribal scholarship fund. Through numerous grants to fund projects, they have restored their log cabin schoolhouse dating to about 1870 and it's now registered as a National Historic Landmark. The Monacan Nation Annual Powwow is held every May and their Homecoming Festival the first Saturday in October. The tribe has been trying to get federal recognition since the 1990s.
Website - www.monacannation.com/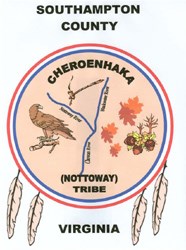 Cheroenhaka (Nottoway) Tribe "People at the Fork of the Stream" (Courtland, Southampton County; 272 tribal members, 100 acres) - The Cheroenhaka (Nottoway) made their first contact with the English settlers in 1607-08 in what is now Nottoway County. The English were in the area looking for more information on the "Lost Colony" of Roanoke Island. At this time the tribe was called Man-goak or Men-gwe by the members of the Powhatan Paramount Chiefdom, and are listed that way on Captain John Smith's map of Virginia. The name Na-da-wa or Nottoway came from the Algonquian name given to them by the Powhatan people, the first people the English came into contact with. The Cheroenhaka (Nottoway) are Iroquoian speakers.

The Cheroenhaka (Nottoway) lived in lands east of the fall line on the inner Coastal Plains of Southeastern Virginia along with the Meherrin and the Tuscarora. They signed three treaties with the English. Two, the treaties of 1646 and 1677, were signed along with other Virginia Indian tribes. The third, the treaty of February 27, 1713, was signed only between the chief of the tribe, "Ouracoorass Teerheer" (AKA William Edmund Edmond), and the governor, Alexander Spotswood. This "Stand Alone" treaty has a "Successor Clause" that the tribal government maintains. This means that the relationship between the tribe and the English, established by the treaty, continued with the Commonwealth of Virginia starting in 1776 and continuing to the present day.

During the mid-1680s, the Cheroenhaka (Nottoway) moved from their town of Ta-ma-hit-on/Tonnatorah, now Sussex County, to the Assamoosick Swamp, now Surry County, to avoid war and encroachment from the English. The tribe moved again in the mid-1690s further down the swamp into present day Courtland and Sebrell, present day Southampton County. Southampton County recognized the tribe in 1851 as a result of a successful Court Case, and the tribe has never negated its Tribal Status since that time.

The Cheroenhaka (Nottoway) Tribe reorganized in 2002 and put a tribal government in place by electing a Tribal Chief and Council Members. Chief Walt "Red Hawk" Brown became the first modern day chief of the tribe. In 2009, the tribe purchased 100 acres of its former 41,000 acre reservation land, and was recognized by the Commonwealth of Virginia in 2010. The tribe plans to build a Tribal Educational Center and Museum, and Interactive "Palisade" Native American Indian Village with "Longhouses" (Cattashowrock Town), a Worship Center and Powwow Grounds. The Cheroenhaka (Nottoway) hold an Annual Powwow and Gathering ("Ke-to-ok-neh") the fourth weekend of July at the Southampton County Fairgrounds in celebration of the Green Corn Harvest. The Powwow showcases their tradition and culture through dance and praises the Creator.
Website - www.cheroenhaka-nottoway.org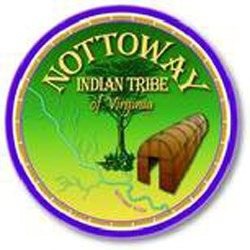 Nottoway Tribe "People of the Longhouse..." (Capron, Southampton County and Surry County; 120 tribal members, 0 acres) - The Nottoway Indians lived in dispersed houses within communities or towns, that each had its own leader, at the time the English arrived at Jamestown in 1607. Until recently, the Nottoway Indian Tribe and the Cheroenhaka (Nottoway) Tribe shared a history, but split into two separate tribes over differing views.

On May 5, 2012, the Nottoway Indians had a Grand Opening for their Nottoway Indian Tribe of Virginia, Inc. Community House and Interpretation Center in Capron. The Community House features the permanent exhibit "From Barter…To Buffer…To Be," which details key issues and pivotal points in Nottoway Indian history through to the present. The facility was built with money from Nottoway family citizens that were matched equally by the Virginia Foundation for the Humanities. Educational programming will include (both in the building and on the grounds): lectures, storytellers, crafters, visual artists, and performing artists from the tribe as well as surrounding communities throughout the state and the nation.

Today, many Nottoway Indians still live in Southampton County, though various jobs have forced others to migrate to areas throughout the counties into nearby cities. Several of the Tribal Council members own farms in Capron, Drewryville, Boykins, Branchville, Courtland and Ivor that have been owned by the same families for generations. The tribe also hosts an Annual Powwow the third weekend in September at the Surry Parks and Recreation Center. The celebration includes: intertribal dancing, storytelling, arts and crafts, demonstrations, and cooking.
Website - www.nottowayindians.org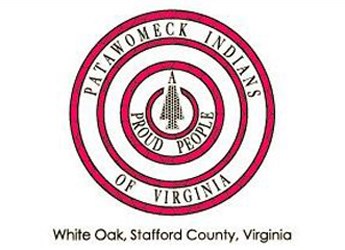 Patawomeck Tribe
(Stafford County; 770 tribal members, 0 acres) - When the English arrived in 1607 the Patawomeck Indian Tribe were "fringe" members of the Powhatan Paramount Chiefdom. They first encountered the English when Captain John Smith visited the tribe in 1608. At times, the tribe befriended the English and sent them food when other tribes would not.
In 1609, Francis West was sent to get corn from the Patawomeck, but instead killed two of them - by cutting off their heads - and sailed away to England. Captain Samuel Argall later traded with the Patawomeck for much needed food for the English during the "starving time." Pocahontas was living with the tribe in 1613. When Argall learned of this, he kidnapped her in order to force her father Powhatan to return English prisoners and stolen weapons.
In the 1650s the settlers began moving into Patawomeck territory and pressures and violence followed. They sold their remaining land to the colonists by October 1665. After war was declared by the English in 1666, the Patawomeck Tribe disappears from the historical record. In 1928, an anthropologist named Frank Speck wrote about Virginia Indians living around the original Patawomeck capital. He believed these to be descendents of the Patawomeck, though he called them "Potomac" as he did not have solid proof one way or the other.
Through research assistance, provided by a cooperative venture with the College of William and Mary, the Patawomeck Tribe put together documentation affirming their ties to the Patawomeck Tribe of the 17th Century. Starting in 2008, through the help and efforts of Dr. Blair Rudes, the tribe also saw a re-birth of their language. They began offering language classes to teach tribal members the revived language of their ancestors. As a result of the these efforts the Patawomeck Indians were presented with the 2008 Historic Preservation Award on May 19, 2009
"For their earnest efforts to revive their native language and preserve their culture for future generations of native peoples in Stafford County."
In 2010, entertainer Wayne Newton, a Patawomeck tribal member, cancelled a concert to testify in front of the Virginia House and Senate in support of their bid for state recognition. A week later the tribe was officially granted state recognition.
Website -
www.patawomeckindiantribeofvirginia.org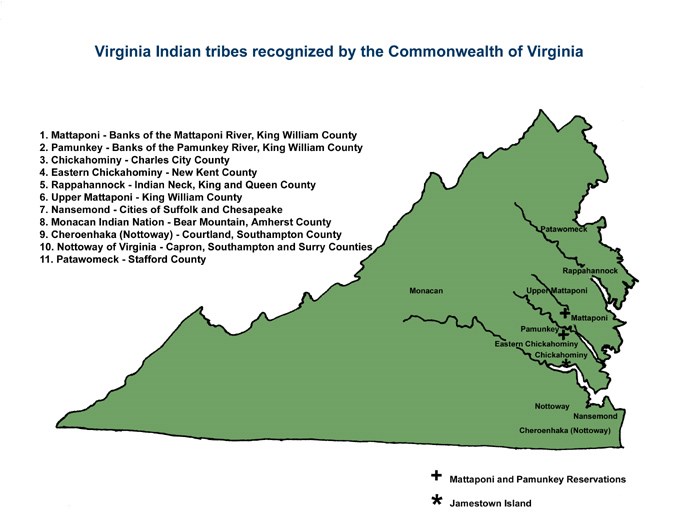 Bibliography
Agnew, Tracy. "Mattanock Town Stalls." 2011. Web. 7 June 2012.

Brown, Chief Walt "Red Hawk.""Ethno-Historical Snap Shot of the Cheroenhaka (Nottoway) IndianTribe." 2007. Web. 9 June 2012.

Brown, Chief Walt "Red Hawk." "Welcome, Official Website of the Cheroenhaka (Nottoway) IndianTribe." 2007. Web. 14 March 2010.
""From Barter…To Buffer…To Be" - Nottoway Indian Tribe of Virginia Opens Interpretive Center in Capron on May 5th."Web. 9 June 2012.

Haile, Edward Wright (editor) Jamestown Narratives: Eyewitness Accounts of the Virginia Colony: TheFirst Decade: 1607-1617. Chaplain: Roundhouse, 1998.

Kimberlain, Joanne. "We're Still Here." The Virginian-Pilot. June 7-9 2009: Print.

"Lifestyle, Community, and Family." Web. 9 June 2012.
Passut, Charlie. "Native Americans reclaim reservation land." 03/21/2009. Web. Tidewater News. 14 March 2010.

"Patawomeck Tides Volume 11, Number 1." 09/11/2008. Web. 15 June 2012.

"Patawomeck Tides Volume 12, Number 1." 09/15/2009. Web. 15 June 2012.

Rountree, Helen C. Pocahontas's People: The Powhatan Indians Through Four Centuries. Norman:University of Oklahoma Press, 1990.
Schilling, Vincent. "3 Va. Tribes gain state recognition." 03/05/2010. Web. Indian Country Today Media Network. 11 March 2010.
Waugaman, Sandra F. and Danielle Moretti-Langholtz, PhD. We're Still Here: Contemporary Virginia Indians Tell Their Stories. Richmond: Palari Publishing, revised edition 2006.
Wood, Karenne (editor). The Virginia Indian Heritage Trail. Charlottesville: Virginia Foundation for theHumanities, 2007.


Sarah J Stebbins
NPS Seasonal, August 2012

Available online through the National Park Service is A Study of Virginia Indians and Jamestown: THE FIRST CENTURY by Danielle Moretti-Langholtz, Ph.D.

Additional information on Virginia Indians can be obtained through the Virginia Council on Indians website at: http://indians.vipnet.org/

Federal recognition of Virginia Indians factsheet

Last updated: October 15, 2019