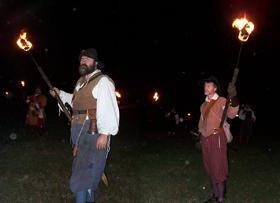 It was a time of strife, distrust and anger, forcing some to stand up and challenge royal authority. These difficult times led many to rally around one individual, Nathaniel Bacon, to take up arms and revolt against a perceived tyrant. No, this was not the American Revolution, but Bacon's Rebellion which occurred 100 years before the Declaration of independence.
It was on September 19, 1676 that Nathaniel Bacon drove loyalists under Governor Sir William Berkeley out of Jamestown and proceeded to loot and burn the town. This was the climatic event of the rebellion. Bacon soon thereafter died and the rebellion collapsed.
Some of the most important events of the rebellion happened at Jamestown, and the conflict itself destroyed most of the city. Bacon's Rebellion was one of the largest and most violent events in the colony's first century. It forever changed the political, economic, and social climate of Virginia.