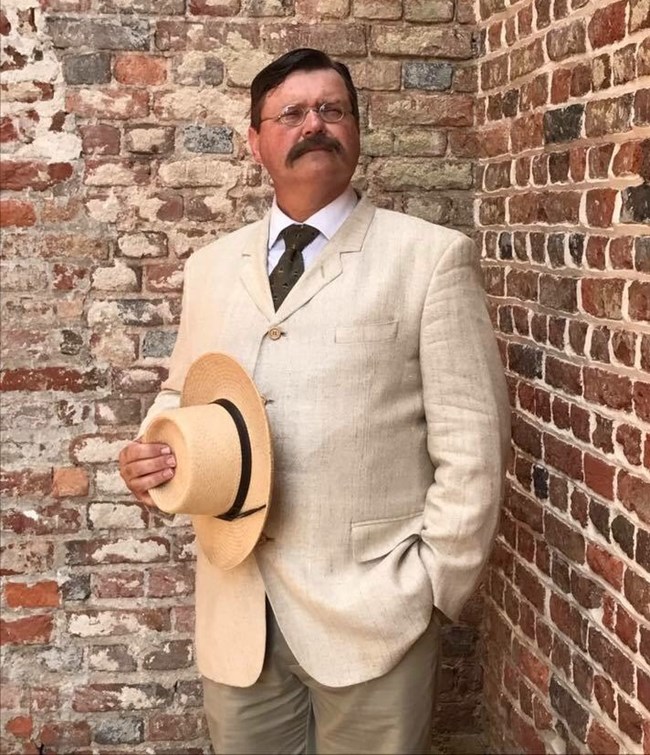 Colonial National Historical Park




Welcomes "Teddy" Roosevelt




April 21, 2018
Come join us for the opening of the 2018 National Park Week, Saturday, April 21st. Highlighting this year's week-long recognition of our national parks is a presentation by historian Bill Rose and his first-person portrayal of Theodore Roosevelt, 26th President, naturalist, soldier and father of our national parks. Come listen to a speech given by "Teddy" at the 1907 Jamestown, three-hundredth anniversary.
What better way to begin National Park Week than spending part of it with "Teddy?" Programs are free to the public and will be conducted on April 21st...
Yorktown Battlefield visitor center theater at 10:30am
Historic Jamestowne at 1:30pm
Bill
Rose
has been a Historical Interpreter at Colonial Williamsburg for 28 years and last year, he and his wife formed a company called Shades of Our Past, which
provides historical education and entertainment ranging from America's founding to World War II. Bill grew up in Chesterfield County, Virginia. He spent time in the Navy Reserves as a Seabee and is working toward bringing its beginning and history to life with WWII walking tours of Yorktown and later Williamsburg.
There is no admission fees charged for anyone, this the first day of National Park Week!
When: 21 April, 2018
Where: Yorktown Battlefield Visitor Center, 1000 Colonial Parkway, Yorktown, VA in the morning
and Historic Jamestown Visitor Center, 1368 Colonial Parkway, in the afternoon.
Contact: Ranger Collette Bell at 757-898-2410