Public Unveiling of New Garfield Portrait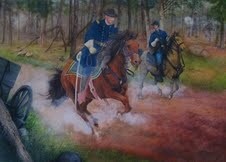 In recognition of the 150th anniversary of the decisive Civil War battle of Chickamauga (September 19-20), renowned Civil War artist Amy Lindenberger - a native of Canton, Ohio - has created a beautiful new portrait depicting General James A. Garfield at one of the battle's most contentious moments. We will publicly unveil and show the portrait for the very first time on Public Lands Day! This event is free of charge and will take place in the Visitor Center auditorium.
Public Lands Day is set aside each year for Americans to reflect on and celebrate national parks, fish and wildlife refuges, national forests, and other areas set aside for the benefit and enjoyment of the people. Tour the Garfield home, enjoy the museum's film and exhibits, walk the grounds, and learn more than you ever thought possible about Mentor's own President Garfield! Free of charge; no entrance fees are charged at any National Park Service sites on Public Lands Day!
Last updated: April 10, 2015