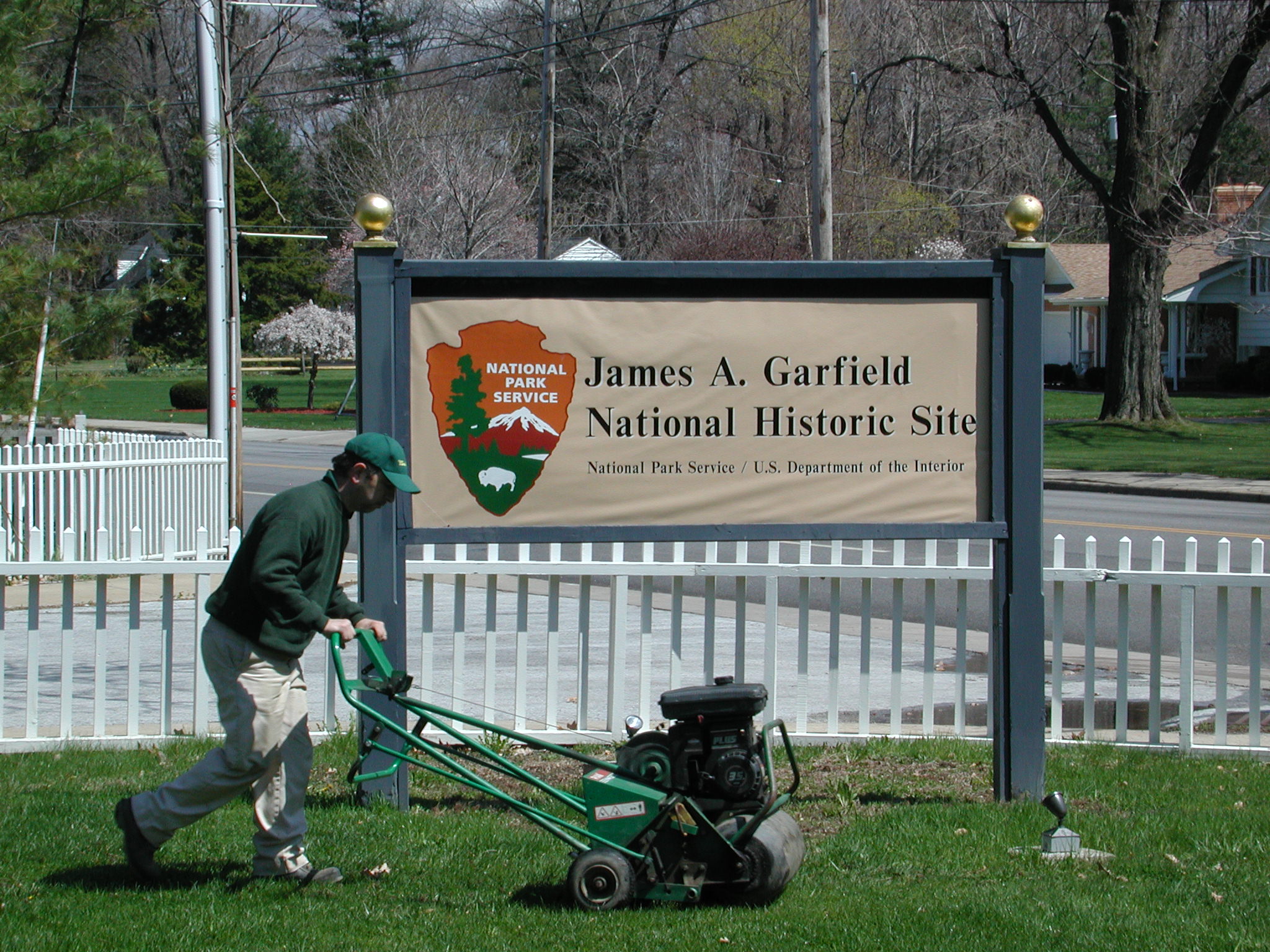 News Release Date:
May 16, 2009
Contact: Sherda Williams, 440-974-2993
The Grass is Greener Behind the Fence at
James A. Garfield National Historic Site
The lawns at James A. Garfield National Historic Site will be much greener and healthier this summer thanks to a donation by Weed Man Lake County of Euclid, Ohio.  The lawn care company selected the historic property as their focus for an industry-sponsored "Planet Day of Service" on April 22.  The company donated lawn aeration, over-seeding, and fertilization to help improve lawn conditions over much of the 7.8 acre property.  The property was the home of Garfield, the nation's twentieth President.  It is managed by the National Park Service, U.S. Department of the Interior.  Over 27,000 people from across the United States visited the historic site in 2008.
As a young man, Dan Rich, Operations Manager for Weed Man Lake County, remembers helping paint the front fence along the Garfield property as part of a Mentor High School service project.   To him, participating in the service day at a historic site made perfect sense: "We're a service-oriented business," Rich noted. "We're all about helping people." 
Sherda Williams, Site Manager of James A. Garfield National Historic Site, agreed that the project greatly benefited the Site.  "We assumed complete management and operation of this property in January 2008 and are covering the increased staffing and operational costs.  The donation of time and expertise by owner Phil Fogarty and Weed Man employees Peggy Kelly, Dan Paoloni, Frank Piasecki, Dan Rich, and Joe Rosado represents a generous investment in caring for this special place.  Their hard work is very much appreciated!"
Several of the Weed Man employees noted that their children have toured the Garfield home on school field trips.  Paying back into the community is the idea behind the first annual nationwide Professional Landcare Network (PLANET) Day of Service on April 22, 2009.  
James A. Garfield National Historic Site is located at 8095 Mentor Avenue (U.S. 20) in Mentor, Ohio, approximately 25 miles east of Cleveland.  The house was completely restored by the National Park Service in 1998, making it one of the most impressive presidential homes preserved for the public.  The visitor center features interpretive exhibits and an 18-minute introductory film.  For information on tours, special events, and programs, please call (440) 255-8722, write 8095 Mentor Avenue, Mentor, OH 44060, or visit www.nps.gov/jaga on the Internet.
-NPS-