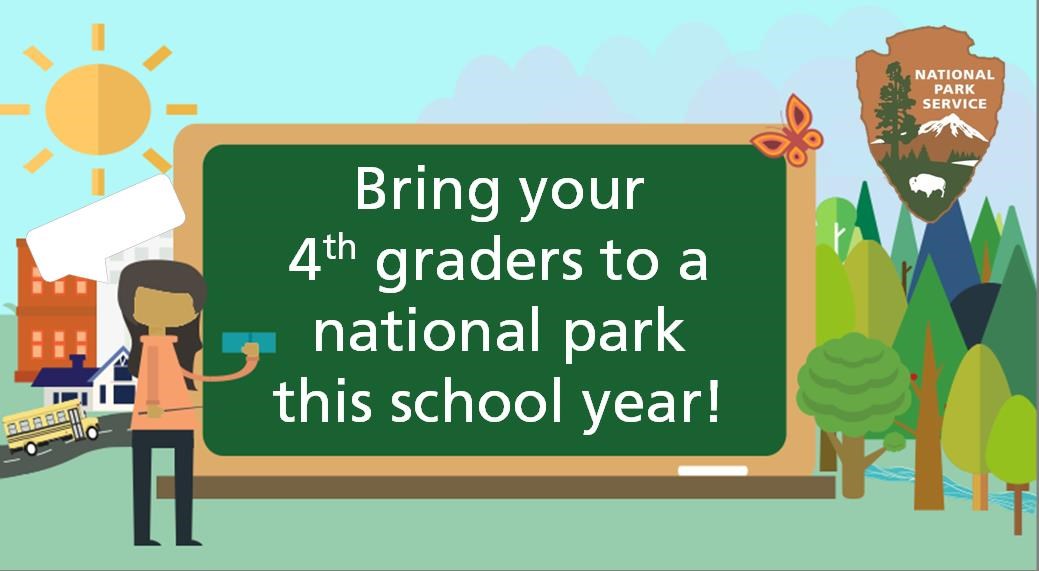 The National Park Service has FREE education programs that will teach your 4
th
grade class about Ohio and in a new way! Our 3-touch approach involves a Park Ranger visit to your classroom, a field trip for your class to either the Garfield site in Mentor or Cuyahoga Valley National Park in Brecksville, and a live, web-based interaction with a Park Ranger for your class following the field trip. There is
no cost
for these programs and qualifying schools* can receive free transportation to the site, available on a first come, first served basis.
Touch 1: Ranger visit to your classroom
Taking place prior to your site field trip, this classroom visit can fit into one class period. Students will be engaged in game-based activities to help them learn about national parks in Ohio, as well as across the country. Ohio's national parks interpret cultural and natural history, and the activities will show how the national parks reflect several common core statements for social studies.** At the end of the visit, each student will receive an
Every Kid in a Park
pass, allowing 4
th
graders and their families to visit national parks for free through the summer.
Touch 2: Field trip to either James A. Garfield National Historic Site or Cuyahoga Valley National Park
Choose one of many history- nature -based two programs for your class during their field trip to the site.
Touch 3: A live, web-based interview with a Park Ranger from the Garfield site
Your students can ask questions about their field trip, any of the national parks discussed in the classroom visit, life as a Park Ranger, or whatever comes to mind during a live interview session with one of the site's Park Rangers. This session can fit into your class period.
How do I sign up?
Visit
www.cvnpedu.org/every-kid-in-a-park/
to review field trip choices and more information.
Thanks to the National Park Foundation for generously funding this grant opportunity!
*Qualifying schools
include Title 1 schools and those where a majority of students receive free/reduced lunches. These schools will have an opportunity to have their transportation fees paid through a grant from the National Park Foundation. Limited funds are available: let us know your busing needs when booking your class trip to the site.
**Ohio Common Core Standards Match-Ups with Ohio's National Parks:
Hopewell Culture National Historical Park - #3 Various groups of people have lived in Ohio over time including prehistoric and historic American Indians, migrating settlers and immigrants. Interactions among these groups have resulted in both cooperation and conflict
Perry's Victory and International Peace Memorial - #6 The inability to resolve standing issues with Great Britain and ongoing conflicts with American Indians led the United States into the War of 1812. Victory in the Battle of Lake Erie contributed to American success in the war.
Dayton Aviation Heritage National Historical Park/Paul Lawrence Dunbar House - #8 Many technological innovations that originated in Ohio benefited the United States
William Howard Taft and James A. Garfield National Historic Sites - #21 The Ohio Constitution and the U.S. Constitution separate the major responsibilities of government among three branches (both men served in all three branches of government)
Cuyahoga Valley National Park - #14. Ohio's location and its transportation systems (canal, railroad, and river) continue to influence the movement of people, products and ideas in the United States.
Charles Young Buffalo Soldiers National Monument - #13. The population of the United States has changed over time, becoming more diverse (e.g., racial, ethnic, linguistic, religious). Ohio's population has become increasingly reflective of the cultural diversity of the United States.
James A. Garfield National Historic Site is located at 8095 Mentor Avenue (U.S. 20) in Mentor, Ohio, approximately 25 miles east of Cleveland. The site offers guided tours of the Garfield home, museum exhibits, and an introductory film. The National Park Service completely restored the house in the late 1990s, making it one of the most impressive presidential homes preserved for the public.
Call 440-255-8722 for general information or find us online at
https://www.facebook.com/GarfieldNPS
Cuyahoga Valley National Park encompasses 33,000 acres along the Cuyahoga River between Cleveland and Akron, Ohio. Managed by the National Park Service, CVNP combines cultural, historical, recreational, and natural activities in one setting.
Call 330-657-2909 for the Cuyahoga Valley Environmental Education Center or visit their facebook page at
https://www.facebook.com/CuyahogaValleyNationalPark