What to Expect While Camping at Isle Royale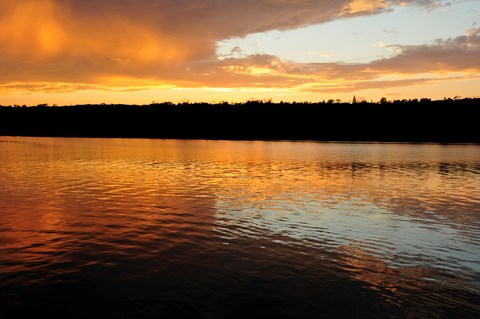 The first time visitor must consider Isle Royale's isolation. It will be very difficult to leave the island if conditions are not what you expected. Be prepared for a wide range of temperatures and weather conditions. The lakeshore may be colder than you expect, but the inland areas can be quite warm during the summer. Be prepared for insects all summer. Few facilities exist on the island. There are no medical facilities and, due to its isolation, it is extremely difficult to contact a ranger if an emergency occurs. Supplies are only available in limited quantities at small concession stores in Rock Harbor and Windigo, which are open seasonally. Plan ahead and strive for self-sufficiency.
Drinking Water
Rock Harbor and Windigo campgrounds have potable drinking water available seasonally. All campsites, except Island Mine, are located on either Lake Superior or an inland lake. Water is plentiful but needs to be boiled or filtered with at least a .4 micron filter or finer to prevent waterborne illnesses. The SteriPen has not been tested by the manufacturer for a common Isle Royale parasite and cannot be considered effective. The water source at Island Mine is a small stream and water can be scarce in late summer. Water in between campgrounds (especially on the ridge trails) is limited, so it is best to leave camp with at least two quarts of water per person.
Sanitation
All campgrounds have outhouses. Away from the campgrounds, please practice proper disposal of human waste. Never defecate within 200 feet (at least 75 steps) of lakes, streams, trails, gullies, or campsites. Dig a small hole of 6 to 8 inches deep and 4 to 6 inches in diameter. Use toilet paper sparingly and pack it out or to the next campground. After use cover the hole with the excavated soil and disguise it with natural materials. Pack out all used feminine hygiene products in double zip lock bags.
Fires
Fires are not allowed at most Isle Royale campgrounds. See the current park newspaper for a listing of campgrounds and where fires are allowed. Camp stoves (including small twig burning backpacking stoves) are permitted. Where fires are allowed, a metal fire ring or raised grate or grill is provided. Never build your own ring or use a rock ring. Gather only dead and down wood away from the camp area - never pull or chop anything live. Use small diameter wood no larger than an adult's wrist, as this will burn completely. Do not burn trash.
Wildlife
Keep wild animals wild by observing them from a distance and practicing proper food storage. To protect your food make sure it is sealed and secured. It is illegal to feed, touch, tease, or intentionally disturb wildlife, their homes, nests, or activities. Animals, particularly fox and otter, easily become habituated to human food, and may become nuisance animals. Use binoculars or a zoom lens to get close to animals. Loons are especially susceptible to disturbance and may abandon their nests when approached by people or boats. Cow moose with calves and bull moose in the fall rut can be dangerous. Give them a wide berth.
Insects
Insects are most plentiful in June and July, but in wet summers insects can continue well into August. Expect black flies, gnats, and mosquitos. Bring headnets or netted clothing, insect repellents, and lightweight, long sleeve clothing and pants. Dry summers bring an abundance of yellow jackets which like to nest in shelter overhangs. Bring a doctor prescribed epinephrine kit for everyone in your group that is allergic to bee/wasp stings. Over the counter antihistamines may help counter minor swelling and itching.
Last updated: October 18, 2018