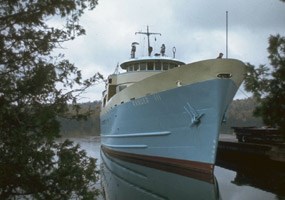 Wm. (Bill) Hanrahan
Master, USNPS RANGER III

Welcome onboard the RANGER III, the "flag ship" of the National Park Service!
The Ranger III was custom built to National Park Service (NPS) specifications in 1958 to replace the WW II built, wood-hull Ranger II, a (surplus) Army mine-laying vessel. At a cost of 1.16 million dollars, the Ranger III slid into the Sturgeon Bay Ship Canal at high-noon on June 21st, 1958. The vessel's mission – to "service the logistical needs of Isle Royale National Park".

Built of steel, the Ranger III is 165' long by 34' wide and displaces 835 tons of water when fully loaded. It can transport 128 passengers, 650 cubic feet of refrigerated and freezer cargo (groceries for the lodge, visitors and employees), 11,000 cubic feet of dry (package) cargo above and below the main deck, and 7,500 gallons of #2 fuel oil for island electrical power generation stations. The vessel self unloads heavy lift cargo with an onboard pedestal mounted crane that can handle 4 tons per lift. After 40 years of continuous and reliable service, the ship was re-conditioned and re-powered in 1999 with two new, fuel efficient, environmentally friendly, 850 shaft-horsepower, Caterpillar main engines. A wheelchair bathroom was added and all bathrooms reconditioned with new fixtures.

In an average year, this workhorse will make 44 round-trips traveling 7,000 miles while transporting 5,500 passengers; 1,500 tons of package cargo; 85,000 gallons of #2 fuel oil; 4,000 gallons of propane (in cylinders); 750 cubic yards of solid waste and 300 recreational and NPS work boats. The vessel can operate in all but the very worst storm conditions with a crew of between six and nine. It has an ice-strengthened bow to break ice in the spring when necessary. With a top speed of 18 mph and a fuel-efficient cruising speed of 15.3 mph, it can make the 70-mile crossing to Isle Royale in less than five hours.