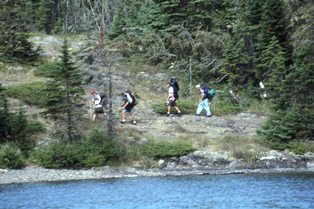 Advance reservations are required for groups of seven to ten individuals, including leaders. If your party exceeds ten, you must split into two groups, each independent and traveling on completely separate itineraries. Groups shall only camp in group campsite locations. Organizations may not have more than 20 people camping on the island at any one time and are limited to 80 people per year.

Isle Royale accepts group camping requests beginning January 2. Requests are typically held until mid-February when office staffing increases. During that early part of the year, received requests are processed through a random selection. After mid-February, requests are processed first-come, first-served.

Summer 2017 Processing Update 3/6/17:
Due to staffing shortages, we are currently several weeks behind our anticipated processing schedule. We are still randomly processing all reservations received between 1/2/17 and 3/5/17. Please be patient. Reservations received after 3/6/17 will be set aside and processed first-come, first-served. It is anticipated that processing will take well into April. We apologize for the inconvenience and will be modernizing our reservation process for summer 2018.