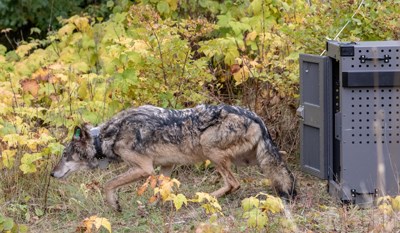 Follow the Tracks of this Wolf
It all happened so fast—the unexpected capture, inspection, relocation. Then the cage door swung open. You caught the first glimpse of a land unknown. Curiously, you exited the cage and stepped further into a wilderness. Becoming familiar with this land filled with places to venture helped you eventually call it home.
You had no idea that your arrival was vital to restoring predator-prey relationships on Isle Royale. Between fall 2018 and fall 2019, nineteen gray wolves experienced similar first steps on the island.

Here is their story of arrival.