Calumet Dunes Trail
Park Facility
Trail Name

GPS Latitude & Longitude

Street Address/Road intersections
Restrooms
(old Dorothy Buell Memorial Visitor Center)
Calumet Dunes Trail, Glenwood Dunes Trail, Dunewood Trace, Calumet Bike Trail
N 41 39.717
W 87 00.600
U.S. Highway 12 & Kemil Road, Chesterton, 46304
Visitor Activities:
Hike sections of the eight-mile Glenwood Dunes Trail
Stroll the .8-mile accessible, paved Calumet Dunes Trail
Hike the Dunewood Trace
Access the Calumet Bike Trail (just north of railroad)

Facilities:

Area opens at 7 a.m. and closes 30 minutes past sunset, daily
Year-round restroom facilities
35-vehicle parking lot including bus & RV parking spaces
Information board listing current park activities
Fun Facts:
The building sits atop the Calumet Dunes Ridge. About 6,000 years ago the land where the existing parking lot stands was a beach.
The building once was the national lakeshore headquarters, Dorothy Buell Memorial Visitor Center till November 2006, and for 3 years the Calumet Dunes Interpretive Center. It is now closed

Before the national lakeshore acquired the building, it was the Presbyterian Church of the Dunes.
Driving Directions:
Starting at Interstate 94 and Indiana 49, go north about 3 miles to U.S. Highway 12.
The exit to U.S. Highway 12 is on the left.
Go right (east) 3 miles on U.S. Highway 12 to Kemil road, turn right (south).
Immediately turn right into the parking lot.
Click Here for Map and possible travel times, traffic information and other suggested routes.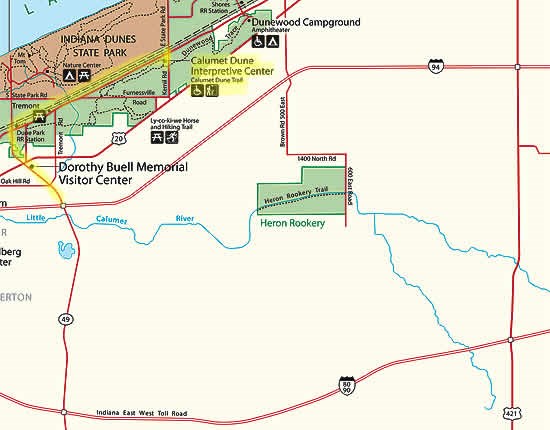 Last updated: December 27, 2017