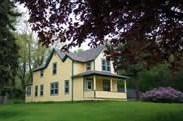 The Great Lakes Research and Education Center (GLREC) is part of a network of Research Learning Centers established by the National Park Service in 2000. The role of the Research Learning Centers is to increase the effectiveness and communication of research and science results in national parks. They do this by:
facilitating the use of parks for scientific inquiry,
supporting science informed decision making,
communicating the relevance of and providing access to knowledge gained through scientific research,
promoting science literacy and resource stewardship.

The GLREC serves 10 parks in the NPS Great Lakes Network. Two staff members and the GLREC field station are located at Indiana Dunes National Lakeshore.
Visit our primary website!