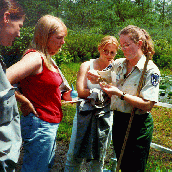 The Branch of Interpretation
offers three Resource Assistant (RA) positions throughout the year. The Resource Assistant Program connects young people with internship and research opportunities in interpretive services. Resource Assistants serve as volunteer seasonal staff, working side by side with other professional interpretive staff. They are not paid, but receive funds to cover travel, a subsistence for food, free housing, and a uniform allowance.
Duties include: researching, designing and leading environmental education programs, 40%; information desk, 20%; special projects including field preparation and auditing environmental education programs, 30%; staffing /lab research with science and/or resource management staff, 10%; Requirement: basic knowledge of life sciences such as botany, biology, ecology, and geology; interest in early Eastern Woodland Native American cultures; public speaking ability; desire to work with children; valid driver's license. Desired: Spanish-speaking or American Sign Language ability. Recommended: personal transportation.