ParKids - A Program for Teens

You're invited to become a ParKid!
ParKids is a volunteer, service-learning program where teens, 13 through 18, learn about Indiana Dunes National Lakeshore, and gain valuable skills and experiences. Our ultimate goal is to empower young people to learn about their neighborhood national park through fun nature hikes, service projects, park events, and more. In return, teens are provided with several opportunities to volunteer in the park and earn service-learning credits.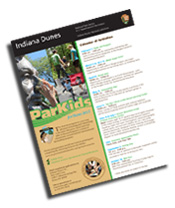 ParKids meet several times a year, usually on Saturdays, for a variety of activities.
Parents and guardians: You can enroll your teens by printing and completing the following two forms.
Mail completed applications to:
Indiana Dunes N.L.
Attn. Gail Cross
1100 N. Mineral Springs Rd.
Porter, IN 46304
(219)395-9555, Ext. 7
Direct questions to ParKids coordinator:
Gail Cross, e-mail us
219-395-9555


Discover what ParKids are saying about their experiences at the park!
New! Dunes Adventure Camp teens aged 14 -16. Dunes Adventure Camp is a 4-days, 3-nights residential camp offered by Dunes Learning Center, at Indiana Dunes N.L. Learn more and register. http://www.duneslearningcenter.org/summer-camp