Self-Guided Trip
Thanks for bringing your group to Indiana Dunes National Park. As you plan your trip, please use our available resources such as our self-guided hike curriculums. For a printed paper copy of the following curriculums, please email us your mailing address, along with the name of requested curriculum, or call our Education Programs Ranger/Specialist, Christine Gerlach, at 219-395-1885.
Though we cannot always provide a ranger-led hike at our education center, please consider working with the education specialist to set up a visit to the Paul H. Douglas Center for Environmental Eduction where you can accomplish a self-guided hike inside and outside the facility. Provided below is one of our three new self-guided programs that adhere to visiting the Paul H. Douglas Center. Once you have selected your trip date and location, please call our scheduling office at 219-395-1885 so we can put your group on our calendar. We want to know that you are coming because it:
Helps us coordinate the use of different park areas.

Helps minimize overbooking the use of the environmental education building.

Enables us to inform you about changes to the area(s) you are visiting.

Allows us to direct you to resources you may not know about.
A Day at the Dunes
"A Day at the Dunes" is a curriculum that teachers can use to lead a self-guided hike of Indiana Dunes National Park. There are also pre-visit activities and post-visit activities that we can send to you directly upon request.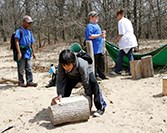 Visiting the Nature Play Zone at the Paul H. Douglas Center
Our mission is to preserve and protect all natural resources, but here at the Nature Play Zone, a small area at the environmental education center, we have set aside a part of the national park for a hands on play area. Here children may play with, manipulate, and use their imaginations with the natural objects found within.
Self-Guided Activity Packet for Grades 2-8
Teachers can use this set of activities when visitng the Paul H. Douglas Center for Environmental Education.
You can also send your requests for printed copies of these curriculums to:
Attn: Christine Gerlach
Indiana Dunes National Park
1100 North Mineral Springs Road
Porter, IN 46304
Educational Fee Waivers
When scheduling a field trip through the Indiana Dunes National Park, you can select either a Self-Guided or Ranger-Guided visit.
In both cases you must...
Coordinate the transportation, supervision, educational, and recreational opportunities.
Fee Waiver: Groups visiting the area for genuine educational or scientific purposes during this time may obtain an Academic Fee Waiver if your group meets established criteria. Please note: If your planned educational visit is primarily for recreational purposes, such as swimming, then a fee waiver can not be granted.


Last updated: February 18, 2022