Visiting the Fragments of Franklin Court Exhibit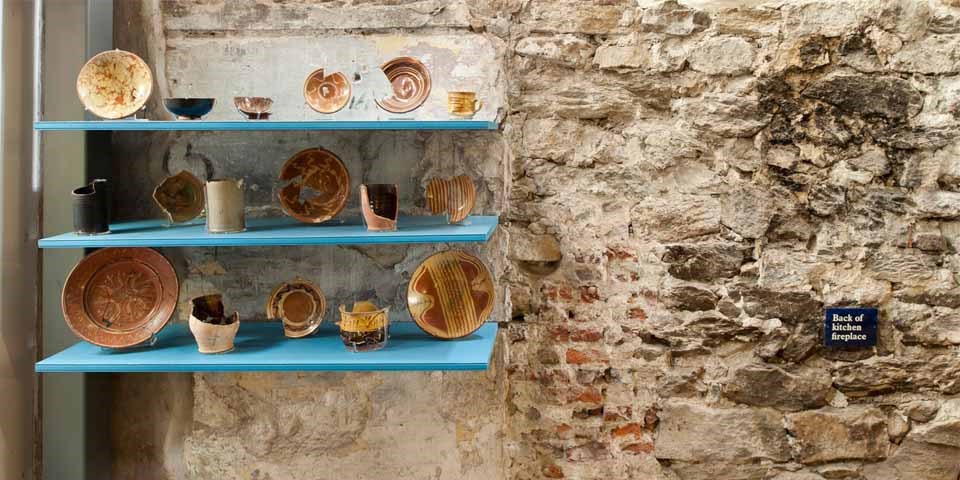 Location
The Fragments of Franklin Court exhibit is located in 318 Market Street in the Franklin Court complex. Enter the Franklin Court courtyard through either the Chestnut Street gate and cobblestone walk, or the Market Street brick passageway. The entrance door for the Fragments of Franklin Court exhibit is just west of the brick passageway.

Ticketing
No tickets are required to visit the Fragments of Franklin Court exhibit. Entrance is on a first-come, first-served basis (when the building is open).
Exhibits
This home, built in 1786 by Benjamin Franklin as a rental property, features an archeological exhibit containing artifacts found buried in Franklin Court. Stripped down to the bare walls, the building allows visitors to examine 18th century building practices and observe some of Franklin's fire safety improvements.

Accessibility
This site is wheelchair accessible through the use of a portable ramp. Please ask the ranger in the Benjamin Franklin Museum to alert the staff in the exhibit to put the ramp in place. Learn more about the accessibility services offered throughout the park on our website.

Images
Enjoy photos of the site in our photo gallery.

Last updated: July 7, 2021