Project Write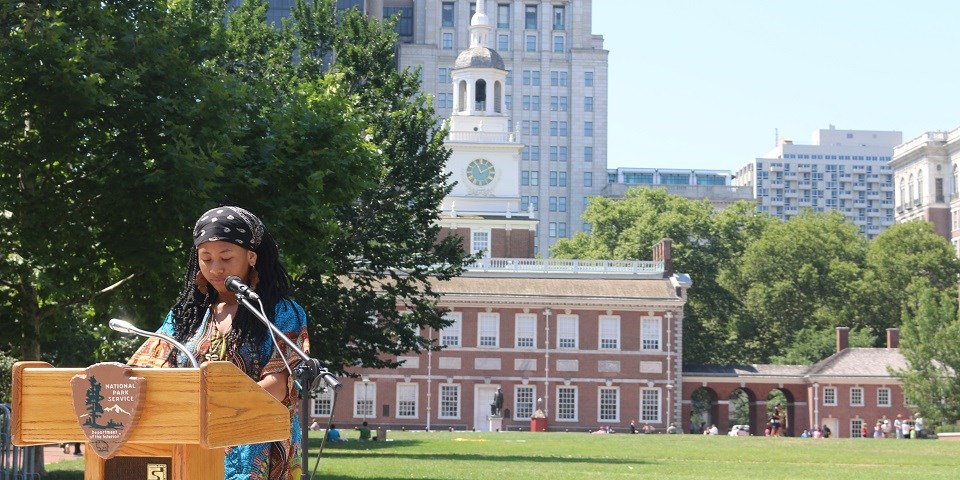 Inspire Me! The Power of Words and Images
Each summer, Independence National Historical Park hosts a group of teens who explore the power of language and images in the place where arguments built a nation.

For two weeks, young writers delve into the past each day, discovering the park sites and stories that are still relevant today. Every day, students end their journey in the present--blogging, tweeting, and using digital images and videos to inspire future generations.

In 2019, Project Write will take place July 23 - July 26, and July 30 - August 2.
Project Write activities
Our writing doesn't just happen in the classroom--it happens all over the national park and the city of Philadelphia. Students visit park sites, like Independence Hall, the Liberty Bell Center, Franklin Court, and more, for inspiration for their writing. They also take field trips to the Edgar Allan Poe National Historic Site and Eastern State Penitentiary Historic Site. And the students write, and write, and write. Check out this sample syllabus.
The Project Write Blog
Check out out 2018 blog! Students use the blog to ponder the meaning of big ideas like liberty, equality, community, and power.
Project Write photos
We upload daily photos to
our Flickr site
throughout the summer.
Follow Us
Follow along as we find different ways to share our voices. Find us on Twitter: @ProjectWriteNPS and #ProjectWrite
Last updated: February 1, 2019