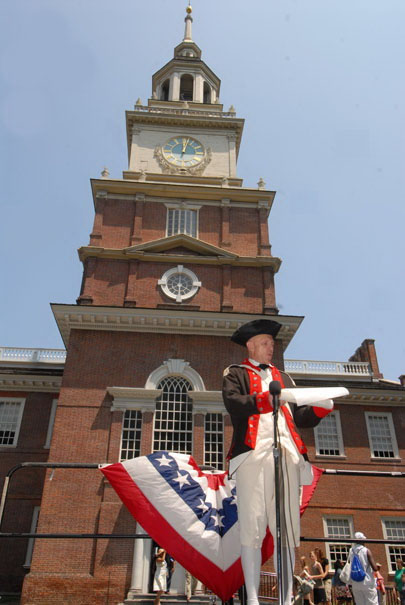 Independence National Historical Park Commemorates First Public Reading of the Declaration of Independence
Print out a copy of the Declaration
Each year, on July 8, you are invited to join the staff of Independence National Historical Park to commemorate the anniversary of the first public reading of the Declaration of Independence. This free event begins at 11:30 AM with an introduction by a park ranger and will be held just behind Independence Hall. An American Sign Language interpreter be interpreting the event for our hearing impaired visitors.
On July 4, 1776, the Second Continental Congress voted to approve the Declaration of Independence inside the Pennsylvania State House (now Independence Hall). Four days later, on July 8th, the citizens of Philadelphia were summoned to the State House Yard by the bells of the city. At 12:00 noon, Colonel John Nixon publicly read the Declaration of Independence for the first time. Following the event and continuing long into the night the bells of the city rang in celebration.
Visitors are invited to experience the sights and sounds of that dramatic day in 1776. Put on your tri-cornered hat and come prepared to cheer or jeer! Costumed National Park Service rangers will mingle with the crowds and distribute free copies of the Declaration of Independence. Following the event, both uniformed and costumed park rangers will be available for interviews and photographs. The rain location will be Congress Hall (seating limited to 150), located just next to Independence Hall.