The "We the People" Virtual Field Trip for Middle and High School Students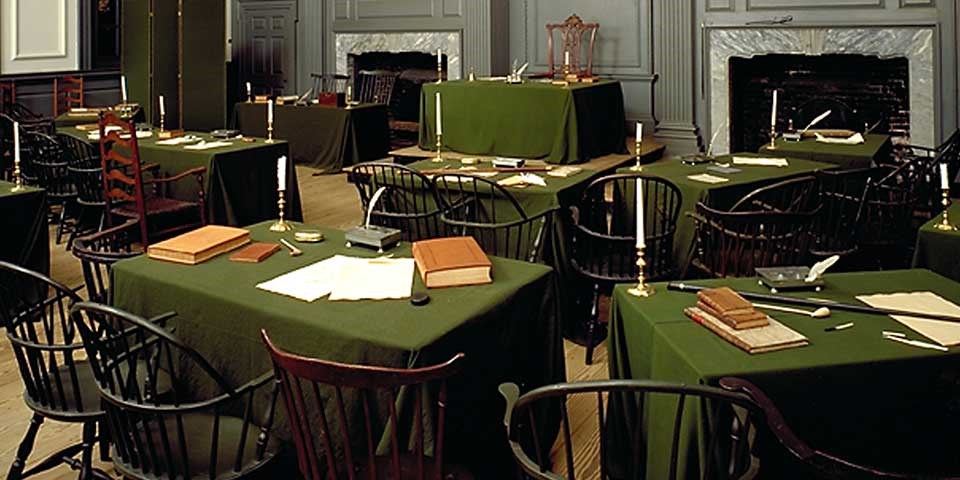 Independence National Historical Park is offering a free virtual social studies field trip about the Constitutional Convention for middle and high school classes. This program is available to public, parochial, or charter school classes, grades 7 - 10.
It's free!
We'll join your classrooms on whatever platform(s) you are using for virtual learning. The park offers the program October through December, and March through May. It is available in the mornings, Monday through Friday.
Contact us
for more information or to schedule your program.
"We the People" Program Description
Students explore Independence Hall in a ranger-facilitated virtual field trip focusing on the Constitutional Convention.
Students make connections between divisive issues today and the conflicts that took place during the Constitutional Convention.
The program aligns with Pennsylvania's Standards Aligned System.
The program runs 30 minutes.
Objects Tell Stories
The objects in the Assembly Room of Independence Hall, like the Rising Sun Chair, reveal stories of conflict and compromise in the creation of the U.S. Constitution.

Every historic object, furnishing, artifact, and facsimile in Independence National Historical Park (and most museums) has been meticulously planned out to tell a story to the visitors.

The scene is clean and orderly but the events that took place here involved a messy exchange of conflicting opinions and uneasy compromises.
"We the People" Satisfies Standards for Social Studies

8.3.8A and 8.3.9A
Examine the role groups and individuals played in the social, political, cultural, and economic development of the United States.

8.3.8B and 8.3.9B
Evaluate the importance of historical documents, artifacts and places critical to United States history.

8.3.8C and 8.3.9C
Summarize how continuity and change have impacted U.S. History.

8.3.8D and 8.3.9D
Examine how conflict and cooperation among groups and organizations have impacted the growth and development of the United States.
Last updated: September 8, 2021