Lesson Plan
Oney Judge's Journey to Freedom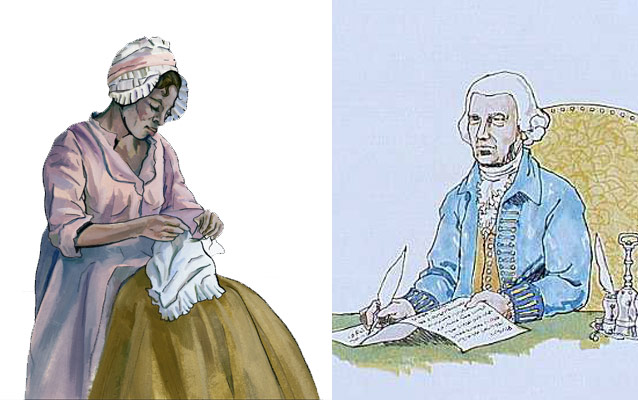 Grade Level:

Fifth Grade-Sixth Grade

Subject:

African American History and Culture, Community, Government, History, Slavery, Social Studies

Duration:

Four to five class sessions

Group Size:

Up to 36

Setting:

classroom

National/State Standards:

Speaking & Listening SL (9-10).1, SL (9-10).2, SL (9-10).4, SL (9-10).5, Reading Informational Text RI (9-10).1,  RI (9-10).2, RI (9-10).7

Keywords:

liberty, Slavery, Abolition, Underground Railroad
Overview
Students learn the story of Oney Judge's escape as well as the challenges she and President Washington faced and the choices they each made.
Objective(s)
Students will demonstrate knowledge of the events of Oney's escape verbally and through performance or art.
Students will articulate the difficult decisions and dangers concerning her flight.
Students will present both points of view for Oney's freedom.
Materials
Teachers will need access to the internet or copies of the articles referenced in the lesson plan; a book called The Escape of Oney Judge by Emily Arnold McCully; art supplies; and large poster paper.

Procedure
Introduction presented to class:
Oney Judge was a young female slave owned by Martha and George Washington. While living in Philadelphia with the President and his family, Oney risked her life when she escaped to freedom in New Hampshire. This week we will hear Emily Arnold McCully's The Escape of Oney Judge. Then we will investigate and analyze Oney's path, choices and challenges as she pursued her freedom.
Engage:
Teacher will read The Escape of Oney Judge by Emily Arnold McCully. 2. Students will read (with help of teacher if necessary) both of the following accounts of Oney's life: http://www.ushistory.org/presidentshouse/slaves/oney.htm (primary source included); http://seacoastnh.com/blackhistory/ona.html#7


Teacher and students will work together to produce, on the board or with a graphic organizer, an outline of Oney's life. You can use the following headings to guide the students:
I   Young Oney in VA, NY and PA
II  Escape to NH
III Attempts to get her back
IV  Later years in NH

Oney Judge must have been very frightened before her escape from Philadelphia. What was going through her mind the night before she left? With partners, have students list the pros and cons of escaping that Oney was probably tossing around in her head that night. Record the different ideas on a large pros and cons t-chart for all to see.
Debate:
Students and teacher will read two interviews with Oney Judge: http://www.ushistory.org/presidentshouse/slaves/oneyinterview.htm (primary source) Divide students into groups of 4 and prepare for a debate in each group. Using information from the articles and interviews, two students will present Washington's reasons for wanting Oney back and two students will present Oney's reasons for wanting her freedom. Within groups, students will share their points and then share with the whole class.
Skits or Murals:
Divide class into 4 groups. Each group will take a portion of Oney's life (1. Young Oney in VA, NY and PA, 2. Escape to NH, 3. Attempts to get her back, 4. Later years in NH) and prepare a short skit depicting this period in her life. All groups will present their skits in sequence. Or, student groups can create a mural depicting the assigned period in Oney's life. Display in a prominent location.
Closing:
Questions to think, write or discuss:
1. Oney had a very difficult life as a free person. In the end, she died a very poor woman. Do you think she was wise to escape from the Washingtons? Explain.
2. Do you think George Washington acted correctly/morally when dealing with Oney? Explain
3. In terms of race relations, how have we as a society changed since the 18th century? How have we remained the same?
4. If you could ask Oney one question today, what would it be?

Assessment
Students should use the information gained from this activity, along with what they have learned from the other lessons and from using the suggested video, web, and print resources, to begin to brainstorm their ideas for an essay on the Underground Railroad. After your class' site visit to Independence National Historical Park to experience the Underground Railroad school program, the students will have a wealth of knowledge, information, and experience to bring to their essay writing.
The Underground Railroad essay question is:
What do you think are the most important lessons learned from the stories and leaders of the Underground Railroad, and how can you apply them to your life?
Park Connections
This lesson plan helps students understand the promise and paradox of liberty granted in our nation's founding documents.

Additional Resources
Print Resources:

Rinaldi, Ann. Taking Liberty: The Story of Oney Judge, George Washington's Runaway Slave. This historical fiction novel by an award winning author retells the Oney Judge story. Grades 6-8
Turner, Diane.
My Name is Oney Judge
. This is a historical fiction picture book. Grades 3-6
Web Resources:

See these letters of correspondence (primary source) between Washington's Secretary of Treasury Oliver Wolcott and the Collector of the Port of Portsmouth Joseph Whipple concerning the return of Oney Judge to Mrs. Washington.  
Read excerpts from letters (primary source) between President Washington and his Chief Secretary concerning his compliance (or lack of compliance) with the Pennsylvania Gradual Abolition Act of 1780.

Vocabulary
Dower slave, indentured servant, liberty, moral, self-sovereignty