Lesson Plan
Digging for Clues!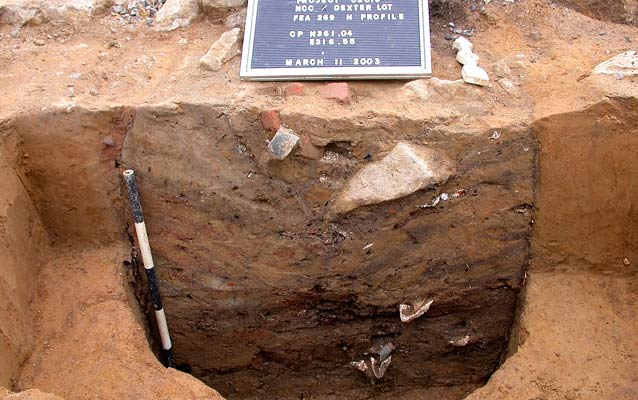 Grade Level:

Fifth Grade-Twelfth Grade

Subject:

Archaeology, Community, Historic Preservation, History, Social Studies

Duration:

One class session

Group Size:

Up to 36

Setting:

classroom

National/State Standards:

Reading Science and Technology Text RST (6-8).4, RST (6-8).7, Reading History RH (6-8).7

Keywords:

archeology, artifact, history, research
Overview
Students will anaylze images to learn about stratigraphy.
Objective(s)
Students will understand the importance of identifying soil levels during archeological excavations and the importance of artifact provenience.

Background
Teachers should note that there are two different spellings: archeology and archaeology. The National Park Service uses the "archeology" spelling, but many archeologists prefer the spelling with the additional "a". Both spellings are correct. The Society for American Archaeology posted an article about the spelling of "archaeology" on their website. This lesson uses the "archeology" spelling, but proper nouns (book titles, websites, etc.) retain their original spelling.
Materials
Copies of Digging for Clues Answers in Stratigraphy worksheet for each student
Pictures of stratigraphy during the 2003 excavation at the National Constitution Center

Provides students with two visual examples of stratigraphy Download
Procedure
Introduction:
Share the following information with the students:
One of the most important aspects of an archeological study is the scientific excavation of the site. This is often done by looking at an artifact's location in relation to soil layers, features, and other artifacts. Archeology itself is done by carefully removing soil layer by layer or by contexts and diligently recording what is found. Once a site has been excavated, the resource and the context are gone.
Generally, the level of soil closest to the surface of a site will contain evidence of the most recent activity. As you move down through the soil layers, accounts of older activity can be observed. This can change if later inhabitants of an area disturbed the soil by construction, farming, or another destructive activity. Likewise, natural events like a flood can also disturb the strata or soil layers.
Ask your students, "What can people learn about you by looking in your trash?" Talk about dating your trash for a week. The oldest trash will be in the bottom of the trash can and the trash from today will be at the top.

Procedure:

Tell the students that they get the opportunity to analyze a site by looking at the stratigraphy. They will need to look at the informatin they are given and make a hypothesis about that happened at that site. Hand out the "Digging for Clues, Answers in Stratigraphy" worksheet and give the students time to work on it. You may also have them work in groups. Once the students have completed the worksheet, go over their answers as a class to see if everyone is in agreement.

Closing:
With the class, examine the pictures of stratigraphy during the 2003 excavation at the National Constitution Center. Have a discussion about what the archeologists doing the dig may learn using the different soil layers.

Park Connections
This lesson ties to many places int he park including the President's House Site, National Constitution Center, and Franklin Court.

Extensions
Write a letter to the editor about the importance of archeology and historic preservation. Make it specific to a site in your city if possible.
Research other kinds of archeology (besides urban archeology). Examples include industrial, underwater, experimental, and classical archeology. What are the similarities and differences to historical archeology in an urban setting?
Look for examples of archeology in popular culture such as movies, books, and television. Then, using your understanding of what archeology is and what archeologists do, write a commentary describing if your example is an accurate portrayal of archeology.

Additional Resources
Websites:
Learn about
archeology at Franklin Court
.  This website has information on the basics of archeology all related to Benjamin Franklin and life at Franklin Court.
The
Society for Historical Archaeology's website
has a special section for kids to learn about careers in archeology.
Find activities, resources, and much more for
encouraging a child's interest in archeology
as well as encouraging stewardship for archeological heritage.
Books:
Cotter, John L., Daniel G. Roberts and Michael Parrington.  
The Buried Past:  An Archaeological History of Philadelphia
.  University of Pennsylvania Press, 1992.
Hansen, Joyce and Gary McGowan.
 Breaking Ground, Breaking Silence:  The Story of New York's African Burial Ground
.  Henry Hold & Company, 1998.
Panchyk, Richard.  
Archaeology for Kids:  Uncovering the Mysteries of Our Past
.  Chicago Review Press, 2001.
Samford, Patricia and David L. Ribblett.  
Archaeology for Young Explorers:  Uncovering History at Colonial Williamsburg
.  The Colonial Williamsburg Foundation, 1999.
The Diary of Elizabeth Drinker
, edited by Elaine Forman Crane.  Northwest University Press, 1991.
Vocabulary
Anthropology, Archeological "Context", Archeologist, Archeology, Artifact, Excavation, Feature, Historical Archeology, Material Culture, Post Mold, Primary Source, Provenience, Secondary Source, Stratigraphy, Urban Archeology
Last updated: September 11, 2015