Lesson Plan
Benjamin Franklin:  Man of Many Talents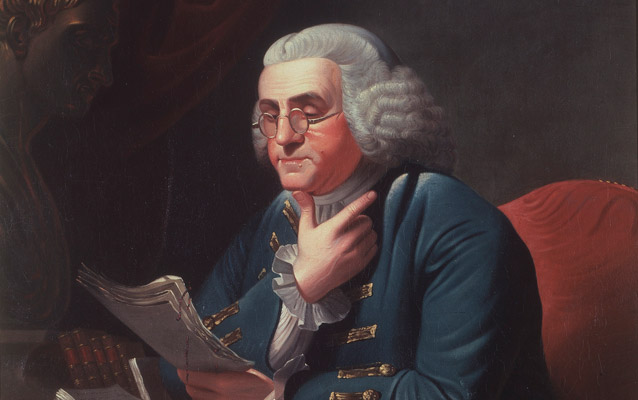 Grade Level:

Kindergarten-Twelfth Grade

Subject:

History, Inventions / Inventors, Mathematics, Music, Social Studies, Writing

Duration:

This will vary based on the grad and on how many assignments the teacher selects to use.

Group Size:

Up to 36

Setting:

classroom

National/State Standards:

Reading Informational Text RI 5.2, RI 5.3, RI 5.7
Writing W 5.2, W 5.7, W 5.9
Speaking & Listening SL 5.1, SL 5.5
Reading History RH (6-8).1, RH (6-8).8
Writing History & Science WHST (6-8).4, WHST (6-8).7

Overview
Students will gain an understanding of the life and times of Benjamin Franklin in a series of activities that carry Franklin's ideas to the present day.
Each step in the lesson contains two basic components:  the Background Dossier and the Assignment.  Individual steps may be taught in isolation or may be used together as part of a unit of study.
Objective(s)
Students will understand the life and times of Benjamin Franklin.
Students will learn some of Franklin's achievements.
Students will learn about Dr. Franklin's achievement as an inventor, musician, community leader, diplomat, writer, and printer.
Background
Beginning the Program:
It is recommended that teachers use one of the resources listed within these lesson plans to introduce the study of Franklin.  There are several picture books listed that would work well for primary and intermediate students. Teachers at the secondary level may share portions of Franklin's Autobiography, an excellent primary source.

Primary Classrooms:
Use the Background Dossier to frame steps. These sheets will provide you with information that may be shared with students orally, or may be listed on wall charts.  Students may complete all or part of the Assignment portion of these step plans as a whole class or in small groups. 
Intermediate Classrooms:
Teachers distribute Background Dossiers to students who will use the information presented to complete assignments with group members. Additional resources may be provided by the teacher or may be obtained by having students search on the internet. Recommended resources and websites are included with these steps.

There are five Assignments presented within these plans: Franklin the inventor, Franklin the musician, Franklin the community leader and diplomat, Franklin the writer and printer, and a man of multiple intelligences.

Options for use:
1.  The teacher will choose the number of Assignments to be completed, and will divide the class into groups accordingly. Each of the groups will complete one of the Assignments. Each group will present their work to the whole class as a culminating activity. Using this option, teachers will be able to cover many topics about Franklin in a small amount of time.
2. This option will take more class time. The teacher will divide the class into cooperative learning groups. Each of these groups will complete all of the tasks involved in this unit of study. The teacher should distribute packets of Background Dossiers and Assignments.  Students in each group will work as a team to complete all of the assignments. Team members will choose topics according to interests and personal experiences.

Note: With this option, students have more choice; however, additional class time will be needed for completion of the project.  Group work may be presented orally or displayed "museum style."
Secondary Classrooms:
These steps are designed for application across the curriculum as well as for use in social studies classes. Background Dossiers may be used as a basis for individual research projects or whole class learning experiences. (See intermediate section for cooperative learning suggestions.             
Content area teachers may use these steps as follows:

English: Utilize information on Franklin as a Writer to launch a study of Franklin's literary works.
Music: Investigate Franklin's accomplishments in music to study the history of music from this time period.
Math: Complex Magic Squares involve logic and mathematical reasoning skills. A study of Franklin's mathematical work will complement these areas of mathematics.
Science: The study of Franklin's inventions and experiments especially in the area of electricity will enhance lessons in this content area.
Teaching about Multiple Intelligences: High school teachers will find enclosed a study of Franklin's uncanny ability to utilize all areas of intelligence: musical, spatial, verbal-linguistic, logical-mathematical, natural, interpersonal, intrapersonal, and bodily-kinesthetic. This unit of study will give students the opportunity to identify their own learning styles while studying about Franklin's. 

Introductory Step:
Creating a Living Timeline
The following step may be done to help students understand the depth and breadth of Franklin's accomplishments.

Before the step:
Print and cut out the timeline cards included in these plans. Important events in Franklin's life are listed on these cards. Teachers of middle school and high school may wish to include the events that are printed in red (world events).
Activity:
Start by asking the class to name a scientist, an inventor, a diplomat, a writer, a printer, a musician, and a leader. List all of the answers on the board. Then, challenge the students to name one person who did all of these things. Discuss all answers and if Benjamin Franklin was not mentioned, suggest his name to the class and discuss his candidacy.
Introduce the term Renaissance Man:
Explain that the word Renaissance means "rebirth."
Leonardo Da Vinci was considered such a man because he was knowledgeable in a wide range of fields. Today, a man who has acquired profound knowledge or proficiency in more than one field is considered to be a Renaissance Man (or Woman).
Record this information on a wall chart for students to refer to during their study of Franklin.
Distribute one timeline card to each student:
Students will assemble themselves in chronological order to create a living timeline. Call on individuals to share the important event on their cards. This may be done orally, by acting out the event or by illustrating it on a small poster.
Note: The teacher may use the cards with Franklin event dates for lower elementary, the cards with Franklin and world event dates for upper elementary, the cards with Franklin events without dates for intermediate, and the cards with Franklin and world events and no dates for secondary students.
By creating this timeline, students will create a visual representation of the scope of Franklin's many accomplishments. 
Close:
Return to the definition of a Renaissance Man. Why might Franklin deserve this title?  Discuss. Teacher should refer back to this term while teaching this study of Franklin.
Materials
For Lesson 1, teachers will need Assignment 1, Background Dossier 1 and Question Sheet 1. For the other lessons, teachers will need the appropriate Assignment and Background Dossier. Teachers using the "Creating a Living Timeline" activity will need Timeline Cards.
Procedure
See these files:
Assignment 1.pdf
Background Dossier 1.pdf
Question Sheet 1.pdf


See these files:
Assignment 2.pdf
Background Dossier 2.pdf


See these files:
Assignment 3.pdf
Background Dossier 3.pdf


See these files:
Assignment 4.pdf
Background Dossier 4.pdf


See these files:
Assignment 5.pdf
Background Dossier 5.pdf

Assessment
Use the pre and post tests to assess learning.

Park Connections
Franklin's many accomplishments capture the spirit of the 18th century Enlightenment and American revolutionary thought in science, politics and society.


Extensions
The Absent Architect

Benjamin Franklin was in Europe when his new home was being built on Market Street. He sent detailed plans for the construction of the building via letters to his wife, Deborah. Ask students to design a modern home that would be suitable for Franklin to live in today. Tell them to consider his many hobbies, his career, his family, and his lifestyle.
Plan to visit Franklin Court in Philadelphia (between 3rd and 4th Streets). There, the students will see the remains of the actual construction, and the "steel ghost structure" of Franklin's home. The
Benjamin Franklin Museum
at this site offers a glimpse of Franklin's life and character.
Aphorisms Updated

Benjamin Franklin said, "Early to bed and early to rise makes a man healthy, wealthy, and wise." Today one might have a different view of this old expression. It might be said, "Early to bed and early to rise makes you health conscious and will help your financial situation."

Provide students with a list of Franklin's aphorisms, or use the one provided, and ask them to put Franklin's aphorisms in the students' own words.

Invention Extension
Challenge students to build the inventions that they sketched as part of this study. Inventions may be displayed at an "Invention Convention" or school fair.
Additional Resources
Benjamin Franklin
http://www.pbs.org/benjaminfranklin/

Benjamin Franklin: Glimpses of the Man
http://sln.fi.edu/franklin/rotten.html

Ben's Guide
http://bensguide.gpo.gov/benfranklin/

Benjamin Franklin in His Own Words
http://www.loc.gov/exhibits/treasures/franklin-home.html

Franklin Court
https://www.nps.gov/inde/planyourvisit/franklin-court.htm

Adler, David A. A Picture Book of Benjamin Franklin. Holiday House, 1990.
A biography of Franklin geared toward primary children.

Adler, David A. B. Franklin Printer. Holiday House, 2001.
A detailed biography for older students; contains a detailed time line of events in Franklin's life.

Barretta, Gene. Now & Ben: The Modern Inventions of Benjamin Franklin. Henry Holt and Company, 2006.
A picture book that compares modern inventions with those designed by Franklin.

Cousins, Margaret. Ben Franklin of Old Philadelphia. Landmark Books, Random House, 1952.
A biography written for middle graders that is part of an acclaimed series of children's history books.

Dash, Joan. A Dangerous Engine. Farrar, Strauss, 2005.
Franklin's life is vividly recounted in this book designed for grades 7 and up. A collection of period reproductions and primary sources are depicted.

Fleming, Candace. Ben Franklin's Almanac: Being a True Account of the Good Gentleman's Life.
Atheneum Books for Young Readers, 2003.
Modeled on Franklin's Poor Richard's Almanac, this book is a combination of biography, anecdote, cartoon, and etchings. Geared toward middle schoolers, but is a wonderful resource for adults.

Fleming, Candace. The Hatmaker's Sign. Scholastic, 1998.
A story of Benjamin Franklin, retold by Ms. Fleming in picture book form.

Fradin, Dennis Brindell. Who Was Ben Franklin?  Grosset and Dunlap, 2002.
An illustrated biography suitable for students in grade 3 and beyond.

Fritz, Jean. What the Big Idea, Ben Franklin?  Putnam and Grosset Group, 1976.
A brief account of Franklin's role in the early history of America. Written for students in intermediate grades.

Giblin, James Cross. The Amazing Life of Benjamin Franklin. Scholastic Press, 2001.
A picture book biography accompanied by masterfully painted illustrations. Length and context of text makes this suitable for older students.

Gutman, Dan. Qwerty Stevens Stuck in Time with Benjamin Franklin. Simon & Schuster, 2002.
Historical fiction about a boy whose time travel machine transports Ben to the 21st century. Intermediate level.

Murphy, Frank. Ben Franklin and the Magic Squares. Random House, 2001.
A Step into Reading Book (Step 4), that discusses Ben's sayings, discoveries and inventions.

Pingry, Patricia A. Meet Benjamin Franklin. Ideals Children's Books, 2001.
A biography in picture book form that presents Franklin simply and with humor.

Schanzen, Rosalyn. How Ben Franklin Stole the Lightning. Harper Collins, 2005.
Focuses on Franklin's role as an inventor, a picture book appropriate for ages 6 and up.

Smith, Lane. John, Paul, George and Ben. Hyperion Books for Children, 2006.
A picture book in which the author imagines these patriots as children. Uses humor to entice readers.

The Ben Franklin Book of Easy and Incredible Experiments. John Wiley & Sons, 1995.
A Franklin Institute Science Museum Book that shows students how to conduct experiments the Ben Franklin way using inexpensive everyday items.

Appleseeds, A Cobblestone Publication. December 2004.
This magazine is written for grades 3 and up and the entire issue is dedicated to Benjamin Franklin.

Cobblestone Magazine, Vol. 13, NO. 7, September 1992. Benjamin Franklin
This edition of The History Magazine for Young People is completely dedicated to the life of Benjamin Franklin.


Vocabulary
Inventor, Scientist, Renaissance, Musician, Printer
Last updated: February 26, 2015