Lesson Plan
Abolitionists and the Underground Railroad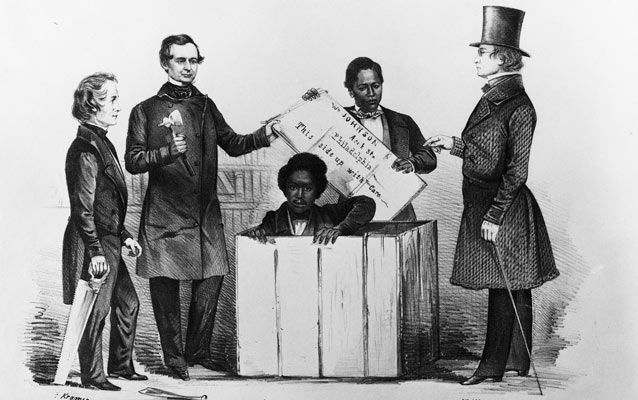 Grade Level:

Seventh Grade-Twelfth Grade

Subject:

African American History and Culture, Community, Government, History, Slavery, Social Studies

Duration:

One to two class sessions

Group Size:

Up to 36

Setting:

classroom

National/State Standards:

Reading History RH (9-10).2, RH (9-10).8, Speaking & Listening SL (9-10).1

Keywords:

liberty, Slavery, Abolition
Overview
Students work individually and in groups to learn about the contributions of abolitionists, and the work of the abolition movement.
Objective(s)
Students become aware of the risks taken by fugitive slaves and the people who helped them, while gaining an understanding of the goals, actions, and symbols of the abolition movement.

Materials
Teachers will need the Abolitionist Student Worksheet.

This worksheet is used in the lesson for individual student assignment. Download
Procedure
Before the Lesson:
Have charts/projections/transparencies with 3 guiding questions ready, but not yet displayed. (What are the goals of your anti-slavery group?What will you actually do to reach these goals? Will your group have a name, and if so, what name will you choose and why?)
Have a plan for getting the students into cooperative groups (3-4 students per group). Each group will have a recorder and a presenter.
Make enough copies of the Student Fact Sheet for every student.
Engage:

The Underground Railroad was a reaction to the rise of slavery in this country.Africans were brutally captured from their homeland, they endured the Middle Passage across the Atlantic Ocean and life as enslaved people in America. Both free and enslaved Africans in America made significant contributions from the very beginning of our country's history, all through the time in our history when slavery was legal in this country, and have continued contributing to our country's history today.

I am going to ask you a series of questions, and I want you to just silently think of the answers on your own. You will have a chance to share with others in your group in a little while. Now put yourself back into that time, and ask yourself the question: What would you do?How would you feel about slavery? Would you DO anything about it? Could you DO anything about it? Would you be more successful doing something about it as an individual or as a group?

Allow students time to think quietly about these questions. Have them share with a partner and then ask students to share with the whole class. Accept all supported responses. Then display the 3 guiding questions for the class.
Your team will be forming an anti-slavery group during the early 1800s. Please take some time to discuss the following questions, and the recorder of the group will write down the group's answers after you have reached agreement. Questions: What are the goals of your group? What will you actually do to reach these goals? Will your group have a name, and if so, what name will you choose and why?
The teacher should give the groups time and monitor their progress. Each group's
presenter
will share the group's responses with the class. The teacher can have each group present all 3 answers at once, or could call on each group to share one goal, then one action in random order; and then ask each group to share their group name, if they chose to have one, and explain the reasoning behind their choice. The teacher facilitates a Socratic dialogue by prompting students to further think about and support their goals and actions, and even group names. The teacher lists the ideas generated by the groups on the board or on chart paper under the headings of: GOALS, ACTIONS, and GROUP NAMES. Hopefully, students will generate many ideas about how to enact a change in the state of things with regard to slavery.
Abolitionist Student Worksheet:
Pass the student worksheet out to each student. Have them read the information and answer the questions on their own. Each student should complete their own sheet, but the teacher could allow them to confer with their anti-slavery group for assistance.
Closing:
Allow students to get with a partner to share their answers from the worksheet. Then have a whole class discussion on the last three questions from the student worksheet: Would you still be willing to help? Would you be willing to take the risk? Why or why not?

Assessment
Suggestions for Formal Evaluation:
Students write a persuasive letter, trying to convince the South that slavery is wrong and should be abolished.
Students write a persuasive letter to a friend or someone that they know, and try to convince them to join the abolitionists.
The teacher has students imagine that they have been approached several times by abolitionists wanting them to join their fight, but recently there have been many people in this anti-slavery struggle who have been fined, jailed, and recently a group of anti-abolitionists turned violent and burned down Pennsylvania Hall (an abolitionist building in Philadelphia). Students have to write a letter telling the abolitionists whether or not they will join them and explain their reasoning.
Park Connections
This lesson plan helps students understand the promise and paradox of liberty granted in our nation's founding documents.

Extensions
Further Study of the Liberty Bell:

Teachers may find it helpful to use the Liberty Bell lesson plans available on the park's website to extend their students' knowledge about the Liberty Bell. The Liberty Bell is discussed in this lesson in the context of being given its name and used as a symbol by the abolitionists. These resources and activities would assist students in knowing more about the Bell before their site visit to Independence National Historical Park.
Additional Resources
Print Resources:
Ayres, Katherine. North by Night: A Story of the Underground Railroad. Yearling Books, 2000.

Ayres, Katherine. Stealing South. Yearling Books, 2002.

Bial, Raymond. The Underground Railroad. Houghton-Mifflin, 1999.

Blockson, Charles L. African Americans in Pennsylvania: Above Ground and Underground, An Illustrated Guide. RB Books, 2001.

Fradin, Dennis Brindell. Bound for the North Star: True Stories of Fugitive Slaves. Houghton-Mifflin, 2000.

Hanson, Joyce and Gary McGowan, and James Ransome. Freedom Roads: Searching for the Underground Railroad. Cricket Books, 2003.

Lasky, Kathryn. True North: A Novel of the Underground Railroad. Scholastic, 1998.

Sterling, Dorothy. Freedom Train: The Story of Harriet Tubman. Scholastic, 1991.

Switala, William J. Underground Railroad in Pennsylvania. Stackpole Books, 2001.

Web Resources:
The National Park Service Underground Railroad Website

The History Channel's Underground Railroad Website

Library of Congress African American Odyssey Website

National Geographic Underground Railroad Simulation Website

National Underground Railroad Freedom Center

PBS Underground Railroad-Africans in America Website

NASA Website that explains the meaning of the song Follow the Drinking Gourd
Vocabulary
Abolitionist, anti-slavery, fugitive