Stop 5: Heritage Orchard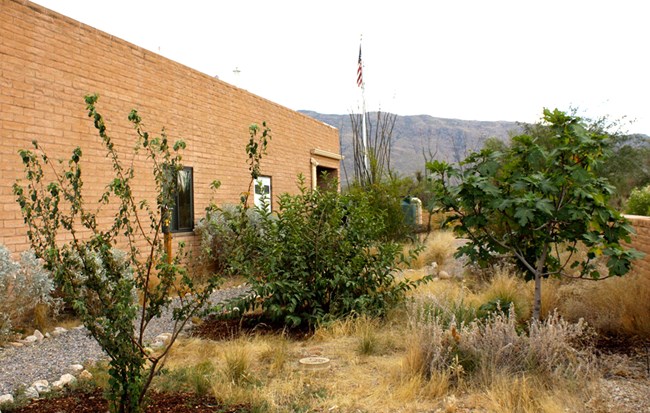 In the late 17th and early 18th centuries, Catholic missionaries introduced a variety of fruit trees to the Sonoran Desert. The Mission San José de Tumacácori (now Tumacácori National Historical Park, about 60 miles south of the DRLC) featured an orchard of peach, quince, pear, apple, pecan, walnut, fig, and pomegranate trees.
The trees in our small orchard are part of a broader project to identify stocks from the trees introduced by missionaries and plant them in "heritage orchards." Heritage orchards like this one commemorate a pivotal time in Arizona history. But they are also complex living reminders of how colonialism remains written on the Southwestern landscape.
Want to plant your own history? Mission-heritage fruit trees are available from local nurseries, thanks to our partners at the Arizona-Sonora Desert Museum and Desert Survivors, who have investigated their origins, collected cuttings, and cultivated them. Another local program, Native Seeds/SEARCH, operates a seed bank that "represents the cultural heritage and farming knowledge of over 50 indigenous communities, as well as recent immigrants," including the Spanish missionaries. Some of these crops can be found in our sustainable foods garden, at Stop 9.
Last updated: September 8, 2022