Stop 5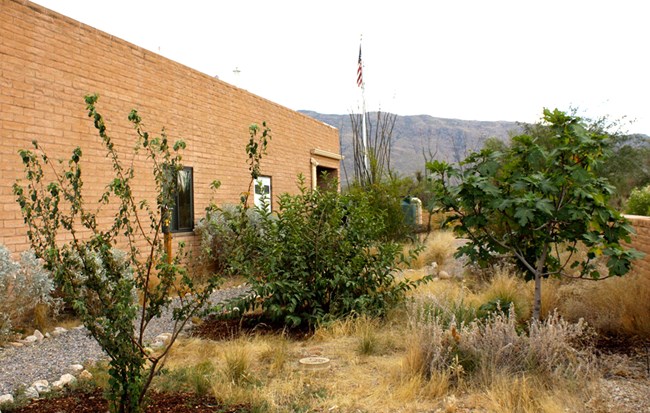 Father Kino Heritage Orchard
In the late 18th and early 19th centuries, Catholic missionaries (most notably, Father Kino) planted fruit trees at their missions in the Sonoran Desert. The trees in this small orchard are part of a broader project to identify stocks (cultivars) from those trees and plant them in heritage orchards.
Who was Father Kino?
Father Eusebio Francisco Kino founded missions throughout present-day Sonora and Arizona, including those found at the Tumacácori and Guevavi units of today's Tumacácori National Historical Park, about 60 miles south of the Desert Research Learning Center. Born in Italy, Father Kino became a Jesuit in 1665. After coming to the New World in 1681, he was a missionary, astronomer, cartographer, and explorer. In 1685, he was appointed missionary to the natives of Pimeria Alta, an area that is today southern Arizona and northern Sonora. He eventually established 24 missions and visitas and laid the foundation for modern agriculture and livestock raising at these sites. Father Kino was also the first European to visit the Hohokam structures of Casa Grande, now preserved at Casa Grande Ruins National Monument.
Father Kino's agricultural projects included an orchard at the Tumacácori mission. By some accounts, the orchard included peach, quince, pear, apple, pecan, walnut, fig, and pomegranate trees. One of the pomegranate trees in the DRLC orchard is from a settlement at Quitobaquito Springs, at today's Organ Pipe Cactus National Monument. The rest are cuttings from the orchards at Tumacácori. The trees identified to date are native to the Old World, central and eastern Asia, North America, and southern Mexico, as well as the Sonoran Desert or Apache Highlands ecoregions.
Want to Plant Your Own Heritage Orchard?
Mission-heritage fruit trees are available from local nurseries, thanks to our partners at the Arizona Sonora Desert Museum and Desert Survivors, who have investigated their origins, collected cuttings, and cultivated them. Additional information can be obtained from the Desert Survivors organization found at and from the Arizona-Sonoran Desert Museum.
Last updated: February 12, 2019