Stop 11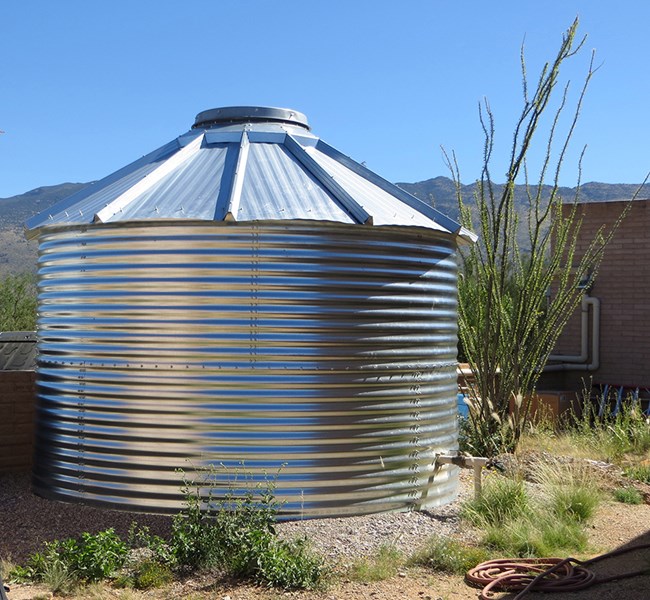 Cistern
This second cistern supports the water features and provides irrigation for the landscaping. It is made of galvanized steel with a heavy polyethylene liner. It holds 6,500 gallons of water, also collected from the roof of the DRLC. A set of underground pipes connect it to the tinaja and stream, where an electric pump circulates the water through the features. The stored rainwater also supports native landscaping plants, gardens, and the Father Kino Heritage Orchard via a drip irrigation system.
Harvesting rain when it falls and saving it for later use is a powerful tool against drought. Since 1980, drought has cost the U.S. economy about $226 billion. Of all disasters related to weather and climate, only hurricanes have been costlier. Yet drought can be hard to define. Generally speaking, it is a lack of water significant enough to negatively affect plants, animals, and people at a broad scale. But dry conditions develop for different reasons. Drought can occur when overall annual precipitation is less than normal. But it can also happen when precipitation doesn't fall at the usual times of year, making it unavailable when it's most needed. Warm temperatures may cause rain to fall instead of snow, reducing snowpack that usually provides water later in the summer. Or growing human demand for water may be greater than the ability of the climate to provide it, even under historically normal climatic conditions.
Climate models are uncertain about future precipitation patterns. What we do know is that higher temperatures increase both water demand and evaporation—and that many areas, including Tucson, are already exceeding the range of natural variability for extreme warm temperatures.
How You Can Help
Plant native plants.
Use native landscaping materials.
Water early or late in the day.
Consider installing an active (cistern) water-harvesting system at your home or business.
Last updated: June 21, 2018