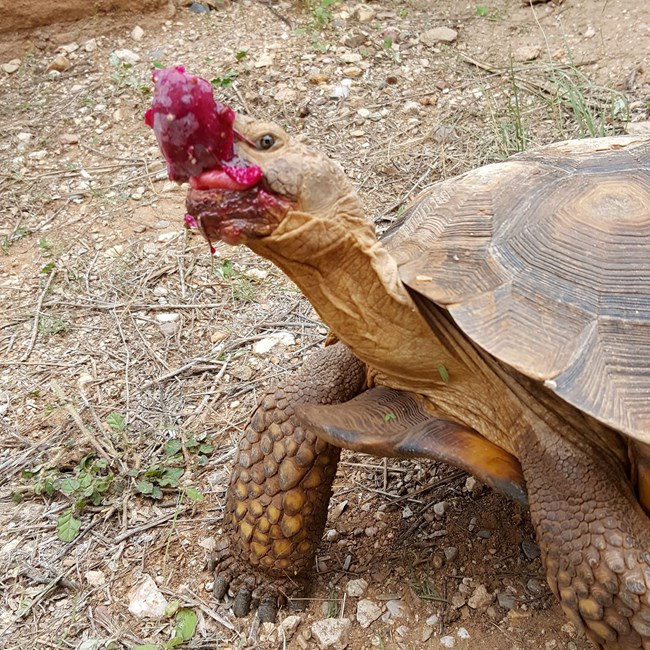 Desert Tortoise Habitat
This enclosure is home to "Boss Pinkley," a tortoise acquired through the Desert Tortoise Adoption Program. The program helps transfer unwanted captive desert tortoises to qualified private custodians. It is illegal to remove tortoises from the wild, but unfortunately, such poaching does occur. Once captive, desert tortoises cannot be re-released into the wild.
Where is Boss Pinkley?
You'll be lucky to catch a glimpse of Boss. Sonoran desert tortoises (Gopherus morafkai) spend up to 98% of their time underground, escaping either summer heat or winter cold. Their ability to dig burrows allows them to inhabit some of the most extreme environments on Earth, where ground temperatures can exceed 140°F.
Life of the Desert Tortoise
Desert tortoise hatchlings are about two inches long. They grow to about 14 inches as adults. Toothless, they use their large tongues to push food to the back of their mouths. They typically eat grasses and other native plants and flowers. Desert tortoises can sense when rain is coming and may be found in low areas, waiting for the water to appear.
Sonoran desert tortoises live on steep, rocky hillsides and in alluvial fans at the base of mountains. They are found south and east of the Colorado River, in the central and western parts of Arizona, and into northwestern Mexico. In the wild, desert tortoises live about 50–80 years. They usually roam no further than a few miles from where they hatched but may travel much farther to locate suitable mates.