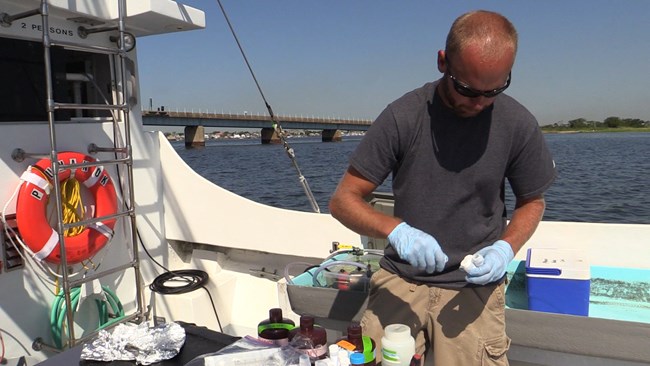 Importance / Issues
Nutrient enrichment of the coastal zone is a worldwide consequence of human population growth.
The population density of Northeast coastal fringe is more than double that of any other region of the country, and it continues to grow. The consequent residential, agricultural, and urban expansion will result in a continued increase in anthropogenic nutrient loading to the region's coastal zone.
Estuaries can generally assimilate some degree of enrichment without major ecological ramifications, but excessive nutrient inputs typically lead to dense blooms of phytoplankton and fast-growing macroalgae, loss of seagrasses, and decreased oxygen availability in sediments and bottom waters.
Cascading effects may include changes in the species composition and abundance of invertebrates, decline in fish and wildlife habitat value, and the collapse of commercially harvestable fin- and shellfish stocks.
Monitoring Objectives
Determine long-term trends in summertime levels of the following in selected NCBN park sites:

Dissolved oxygen concentration

Turbidity

Attenuation of photosynthetically active radiation

Temperature

Salinity

Chlorophyll concentrations

Organic carbon concentrations in estuarine sediment

Determine the distribution and abundance of submerged aquatic vegetation beds in selected areas in NCBN parks.

Determine long-term, inter-annual trends in seagrass condition (shoot density percent cover and biomass) in selected estuarine areas of NCBN parks.
Parks Monitored
Assateague Island National Seashore (ASIS)
Cape Cod National Seashore (CACO)
Colonial National Historical Park (COLO)
Fire Island National Seashore (FIIS)
Gateway National Recreation Area (GATE)
George Washington Birthplace National Monument (GEWA)
Approach
Estuarine nutrient monitoring variables have been limited to those that are well justified scientifically and deemed feasible from both practical and economic perspectives. Two of these variables - sediment organic carbon content and benthic faunal species composition - are sampled on infrequent time scales (i.e., every five years). The remaining variables (chlorophyll a, dissolved oxygen concentration, attenuation of photosynthetically active radiation, and the required ancillary data of temperature and salinity) are measured annually or biennially.
Data on submerged aquatic vegetation is available for some of the parks to acquire from outside sources. Where not available, a methodological protocol was created for the direct collection of these data.
This protocol includes probability-based spatial sampling strategies, methods for incorporating non-Park Service data, and instruction on reporting and interpreting results. This protocol is also compatible with the NPS National Marine Water Quality Monitoring Effort and the EPA National Coastal Assessment.