There were 494 products for certification processed through the program in FY-03, representing a slight rise in participation. As of October 1, 2003, 3217 products, from 191 park sites, have been reviewed since the program began in 1996. Through regional, park, and cluster training efforts, 95 servicewide, curriculum-based (IDP) interpretive training sessions were offered to 2321 interpretive trainees in FY-02 (View chart).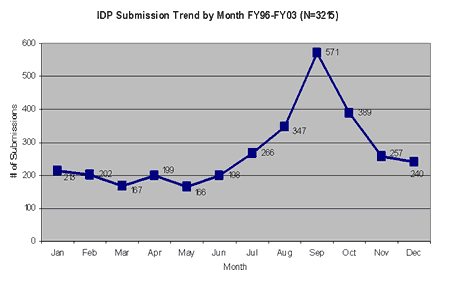 Select from the following:


Submissions by Region
(FY96-03)

Submissions by Module
(FY 03)

Submissions by Result
(FY03)
Participation in the program continues at a high rate. Anyone who has waited long weeks for feedback on their certification efforts knows the difficulties and frustations this causes. This continues to be a concern, as we search for ways to increase the staffing to support the processing of reviews. The peak period for submitted products (hence the longest turn around) is from August to November. Products submitted during the period March through August stand the best chance of a more timely return. During peak periods, submissions may need to be prioritized based on job series, since the program is designed to support progression through the Ranger Careers ladder. Once peaks are served, first-come, first-served prioritizing will resume.
Career Field Training Events