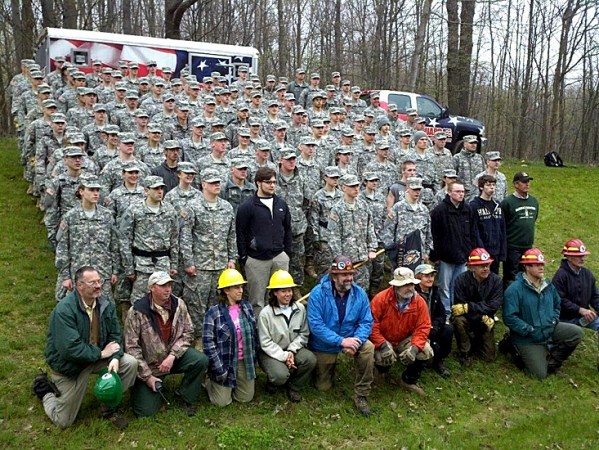 On May 11-15, the Ice Age National Scenic Trail got a boost to its trail building efforts from units of the Wisconsin National Guard. Each year, the Ice Age Trail Alliance (IATA), the major non-profit partner of the Ice Age NST, conducts numerous "Mobile Skills Crew" events to accomplish rigorous, large scale trail building projects throughout the Ice Age NST in Wisconsin. The IATA joins forces with the NPS, Wisconsin DNR, local trail chapters, and special volunteer groups to field the necessary workforce for each project.
This particular Mobile Skills Crew (MSC) project—the Blueberry MSC Project—involved hand-crafting sustainable trail tread, installing trail signage, and building rock walls, resulting in a new two-mile segment of the Ice Age NST now open for foot travel to the general public near Birchwood, WI.
The Wisconsin National Guard fielded 126 personnel from their Alpha Company (Rice Lake, WI) and Bravo Company (Chippewa Falls, WI) "Recruit Sustainability Program" (RSP) to assist with the trail project. The RSP units consist of recent enlistees with the goal of having recruits shipped to basic training within 120 days to reduce attrition. Other volunteer workers who braved non-stop winds, frequent spats of rain, and unseasonably cold temperatures to complete the project included 105 students from Barron, Lac Courte Oreilles, Birchwood, New Auburn, Shell Lake, and Spooner school districts, the University of Wisconsin "Hoofers" outing club, UW-Eau Claire service learning students, and Northwest Passage (Frederic, WI) residents; and many dedicated members of IATA's Superior Lobe Chapter.
In all, 308 volunteers contributed approximately 3,500 hours of service time during the five-day Blueberry MSC Project.
Submitted by: Daniel Watson, Volunteer Coordinator, Ice Age NST