Learn About the Park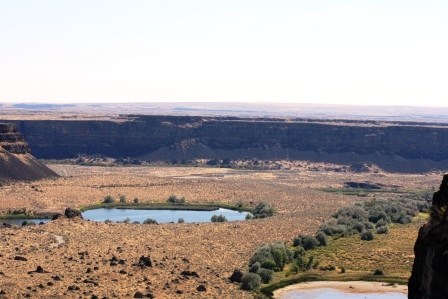 Around 12,000 years ago, at the end of our last ice age, a large ice dam created Glacial Lake Missoula, located in what is now modern Montana. The lake held almost half the amount of water of Lake Michigan, and covered 3,000 square miles. The ice dam holding back all the water eventually cracked due to water seeping into it, and send the entire volume of the Lake roaring westward. It drained the entire lake in only a few days, sending a torrent of water, ice, dirt, and debris towards the Pacific Ocean at around 50 miles an hour. The water would sweep across valleys and low-lying areas, eventually affecting over 16,000 square miles of terrain.
After the flood, Glacial Lake Missoula would refill, only to break again and again. Some scientists think that over 40 floods once flowed across the western states. Evidence of these floods still remain in the form of coulees, high water lines, giant current ripples, and massive boulders transported across hundreds of miles.
Looking for more information about about Ice Age Floods? Check out our partner, the Ice Age Floods Institute, and
read about the history of the floods
.
Last updated: February 8, 2016