Learn About the Park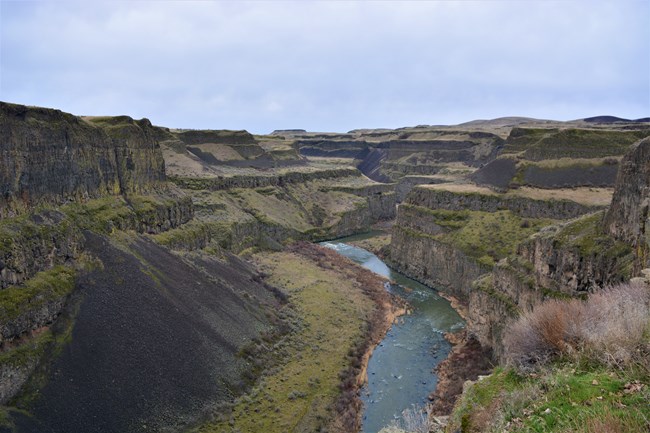 Imagine the greatest floods on earth crashing across and sculpting the lands of the northwestern United States. This incredible true story is recorded in rock and sediment. You can explore the geologic clues and special landscapes made by the Ice Age Floods at sites along the Ice Age Floods National Geologic Trail.

At the end of the last Ice Age, about 18,000 to 15,000 years ago, an ice dam blocked the Clark Fork River in northern Idaho. Water rose 2,000 feet (610 m) behind the dam and stretched eastward 200 miles (322 km), creating Glacial Lake Missoula. Eventually, the ice dam weakened, burst, and released as much as 600 cubic miles (~2,500 km³) of water—about the volume of Lake Ontario and Lake Erie combined—in just two days. A wall of water hundreds of feet high thundered downstream at 65 miles per hour (105 km/hour) with ten times more water than all the world's rivers today. This massive flood of water, ice, and debris shook the ground as it raced westward over 16,000 square miles (41,440 km2) in present-day Montana, Idaho, Washington, and Oregon. Over thousands of years, an ice dam repeatedly formed and burst, causing dozens of floods.

Today, widespread reminders of these Ice Age Floods dot the landscape: gigantic basalt coulees, enormous dry falls, large boulders moved hundreds of miles, high water lines, and huge current ripples. These outstanding examples of cataclysmic flood geology, exceptional scenery, and places for scientific research are all part of the Ice Age Floods National Geologic Trail.
J Harlen Bretz, 1882-1981
A high school teacher turned geology professor, J Harlen Bretz was fascinated with the glacial geology of the Puget Sound. He became an expert on the features of stream and glacial erosion and began field research in the Channeled Scabland of eastern Washington in
1922. Challenging common beliefs, Bretz believed that the Channeled Scabland was formed not by ordinary stream erosion but by cataclysmic floods. What eluded him, though, was the source of the floods.
Joseph Pardee, 1871-1960
Joseph Pardee, a geologist with the US Geological Survey, proposed a source for Bretz's catastrophic floods. As he studied the Channeled Scabland and the intermountain basins of Montana in 1910, he found high water marks near Missoula, Montana—evidence of a large glacial lake. Later, in the Camas Prairie of northwestern Montana, he discovered giant ripple marks of sediment made by powerful currents flowing over the bottom of ancient Glacial Lake Missoula. Like Bretz, Pardee's discoveries played a key role in understanding the story of the Ice Age Floods.

The work of these and present-day scientists show us that the gradual processes shaping our Earth can be punctuated by sudden, cataclysmic events, and that such events are possible in our lifetimes!
Last updated: June 28, 2023