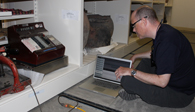 ARTIST IN RESIDENCE - 2016 HIATUS!
We will not be offering the Artist in Residence Program in 2016. We want to thank the 2015 and former artists for their participation in the program and look forward to hosting a new group of artists in 2017. With all the activities surrounding the National Park Service Centennial in 2016, and the large number of artists we are hosting this year we need to take a break to revise our program guidelines and reassemble our selection committee.
Please check back in November 2016 for revised guidelines, application forms, and deadlines for the new program to be launched in 2017!