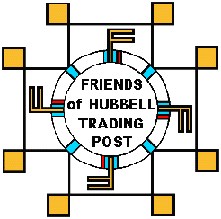 Click here for a quick link to the Friends of Hubbell membership page.
The Friends assist the park in many ways including hosting semi-annual Native American Art Auctions where indigenous artists sell their hand made ceramics, baskets, katsina doll carvings, Navajo rugs, and other items. These auctions provide Native Americans a profitable outlet for their handcrafted goods. You're invited to attend these events where your purchase benefits the artisans, the park, and the Friends of Hubbell, Inc. scholarship fund.
We are proud of the organizations' efforts to emulate John Lorenzo Hubbell's legendary generosity. One of the friends group's goals is to extend the site's historic legacy by perpetuating Southwestern and Native American customs. Please help them to accomplish this and their other goals.