3rd Grade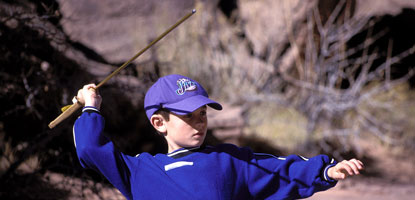 Force, Motion & Primitive Technologies (download PDF)
Students explore different types of simple machines by examining ancient technologies. Students examine different types of levers using digging sticks and throwing atlatls. They discover how wheels and axels were used to make fire, and how rock wedges can become useful tools.
Traveling Safely in the Desert (download PDF)
This in-class presentation explores the tools a student needs to hike safely in the desert ecosystem. Students learn their directions, things to bring with them, and most importantly what to do if they get lost.
Living and Non-living Interactions (download PDF)
Before and after the field trip, students explore producers, consumers, decomposers and food chains, through dioramas and art projects. On the field trip, a story and an active game reinforce predator-prey relationships. Students examine decomposers and explore different components of the high desert ecosystem.
Download entire 3rd Grade curriculum
[1.6mb PDF file]
Last updated: February 24, 2015