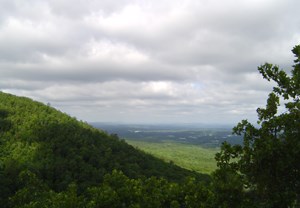 The West Mountain Trail is approximately 1.2 miles in length; it intersects the Mountain Top Trail above Prospect Avenue. Ascend the 14 mortar and stone steps to the left of the West Mountain-Mountain Top Trails intersection, and take the path to the right. Approximately 50 yards before the trail crosses West Mountain Drive, a stone footbridge with an iron handrail spans a drainage gully to the left. Watch your step. The trail ultimately merges with the Canyon Trail after another .5 mile past the footbridge.
A short way past that intersection, after crossing West Mountain Drive, the trail becomes steep and uneven, so watch your step. Notice the number of hollow den trees in this area, which give shelter to forest animals. A fork in the trail appears just below the second crossing of West Mountain Drive. The Oak Trail leads left to the West Mountain overlook and the only covered shelter on West Mountain.
The West Mountain Trail continues along a canyon to your right. Take notice of the damage caused by recent ice storms to many of the trees. The trail begins a gradual descent and levels out before meeting the Mountain Top Trail. You can return to your vehicle by taking the Mountain Top Trail to the right.