Permits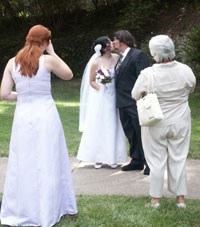 Special Use Permits
In order to monitor and regulate the use of the park while still conserving the scenery, natural and historic objects, and wildlife within park boundaries, all National Park Service areas require special use permits for certain activities.
It is the policy of Hot Springs National Park to accommodate requests for special use permits when and where possible. However, the primary consideration must be given to potential resource damage and to anticipated disruption of normal visitor use.
Hot Springs National Park issues special use permits for the following activities; additional permits from other agencies are required for some actions. The links below provide you with information regarding such permits. You will need
Adobe Acrobat Reader
to open these files. Please note that there is an application fee associated with most permits and additional administrative costs are recovered for some activities.
Special Events - (Weddings, Assemblies, Events, etc.)
Filming & Photography
First Amendment - Public Assemblies and Distribution of Printed Matter
First Amendment Rights information
Groups of less than 25 participants may exercise their First Amendment Rights without a permit being required. These small groups may peacefully assemble, but they must be in a designated First Amendment area. These areas are designated to protect the safety of the participants, park visitors, and park resources (see above map).
Groups larger than 25 participants may still exercise their rights, but a permit with conditions will be required. There are no fees or cost recovery associated with permits issued for First Amendment assemblies. Conditions are required to protect the participants as well as park visitors and park resources; in no way will conditions be imposed to restrict the rights of the permit holder. The National Park Service is content neutral when it comes to any First Amendment activity.

Learn More About Special Use and the National Park Service
For more information about the special uses of the National Park Service, please see below planning documents:

Payments:
By mail
Send check or money order to:
Attn: Permit Coordinator
Hot Springs National Park
101 Reserve Street
Hot Springs, AR 71901
Online

Go paperless and pay online with below links:
Special Use Permit Online Payment Option
Commercial Use Authorization Online Payment Option
If you have any questions or require further information, please contact Park Permits Office by e-mail or at (voice) 501-620-6720 or fax at 501-620-6778.

Last updated: July 23, 2019