Hot Springs National Park America the Beautiful Quarter Release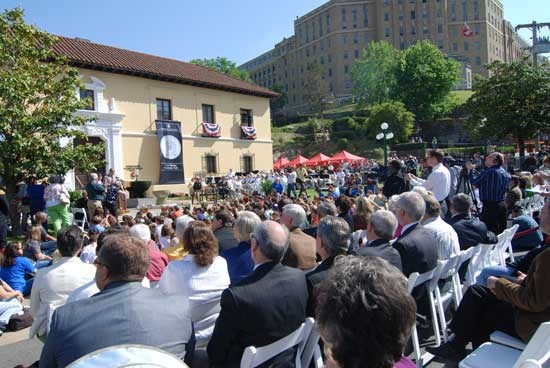 April 20, 2010
A ceremony at 10 a.m. at the park administration building kicked off the release into national circulation of the first in the America the Beautiful Quarters(TM) series which features Hot Springs National Park. Classes from several area schools were part of the estimated 2500 onlookers.
Bank of America facilitated the exchange of cash for rolls of the quarters with a $100 limit. Following the ceremony, visitors joined the park for birthday cake.
Hot Springs Reservation was created by Congress with the signature of President Andrew Jackson on April 20, 1832.
View ceremony program (.pdf file).
Link to more photos.
April 19--Collectors Forum, 5-6 p.m.
Approximately 40 coin enthusiasts joined the director of the U.S. Mint at the Quapaw Baths and Spa reception room to hear about upcoming coin news. More information.
Last updated: April 10, 2015